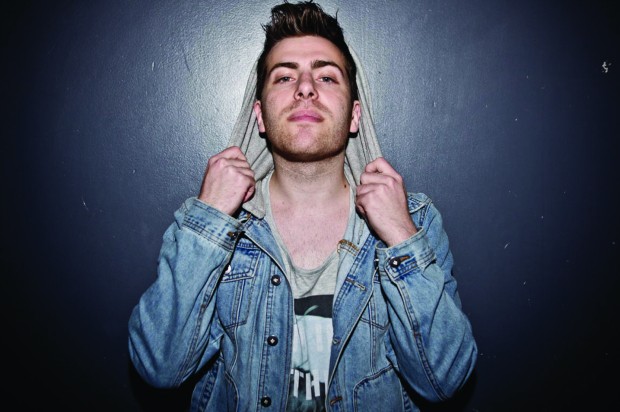 Concert Picks for June 3: Hoodie Allen, Hudson Falcons, and the Artistic State of Oak Cliff
While attending Stefan Gonzales' well-curated "Outward Bound Mixtape" residency last night at Crown and Harp, I was struck by the amount of talent that resides in Oak Cliff, though that's nothing new. Gonzales has been a long-time on-again/off-again resident, and seeing him along with certain other individuals in attendance led to some reflection on how some of the most interesting projects happening in recent years brainstorm and materialize in my old 'hood. Consider the following:
Oil and Cotton's Shannon Driscoll was heavily involved in this year's edition of the Better Block Project and her singular vision helped expand the possibilities of the event. Then there is Driscoll's associate and Oak Cliff resident, Ariel Saldivar, who is an associate director at Goss-Michael. The gallery's recent Feature series led to international representation for local artist Nathan Green. There's George Quartz and his recently completed artist-in-residency series, The Last Resort, which was brilliant. There are hometown heroes The Sour Grapes. There are the rappers who have made us proud, such as Buffalo Black and Dustin Cavazos. Artists like Lucas Martell and Stephen Lapthisophon, the latter of which has inspired those he taught at UTA, students who are now pushing Dallas deeper into the national art discourse.
Some of these folks just moved to Oak Cliff, some have been there a while, others see the neighborhood as a muse, or simply call it home. It's important as Oak cliff grows in its cultural importance as a creative hub, that it's also respected as an area that has historically been populated by citizens of color. Where families live and work while their surroundings are quickly changing around them. Affordable housing and large spaces are attractive to artists seeking residences with studio-sized amenities. But I hope all the growth that's occurring at the moment has time to breathe, allowing for its long-standing residents to keep their grip on their community while watching it flourish. These reverberations aren't coming from Bishop Arts and there is no such thing as North Oak Cliff. Oak Cliff is a lot of things to many people, and it's still growing, with an uncertain future. As far as the current art and music landscape goes, that still makes it simply home to me. On to the shows:
Parquet Courts | Swearin | Radioactivity (Club Dada): There's a curious punk dynamic happening tonight in Deep Ellum. On one side you have the accessible, Spotify-friendly Parquet Courts, who have made mainstream strides recently, garnering almost Arctic Monkeys-levels of attention in their rise through the ranks. This should be a fun show, where you can catch a band in the throes of ascension. Fast forward a few years, and you'll be bragging about when you saw them live.
Hudson Falcons (Three Links): Here we have the low-key b-side to the above show. Hudson Falcons were a staple in the parking lot at the machine shop I worked at in North Fort Worth. While I'm not a huge fan of their music, it resonates with me the same way the smell of machine coolant still does.
Hoodie Allen (House of Blues): I'm going to save the obvious jokes for later. This is guilty pleasure with no chaser. Not lyrically fit, terribly interesting, Hoodie Allen is after your pocketbook. If you're okay with that, then this show is appealing for a variety of maligned reasons.