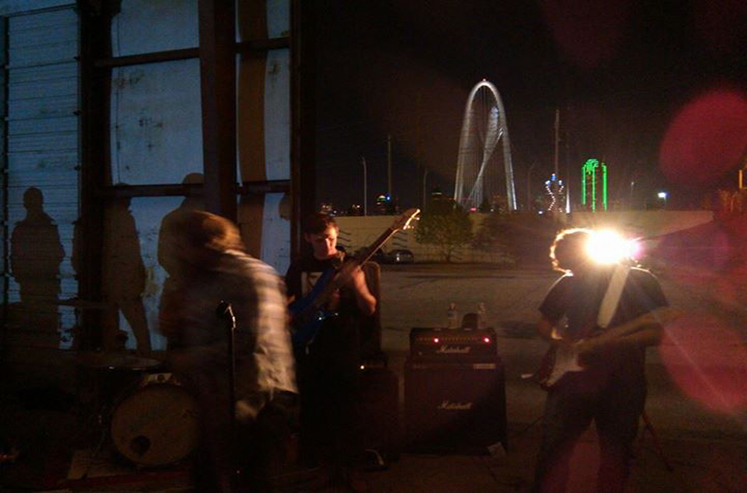 Q&A: Art Peña on His New West Dallas Music Space, Vice Palace
Local artist Arthur Pena has opened his third West Dallas venue in about six months.
East Dallas resident Arthur Peña already has quite the reputation for his ability to put space behind his words—that is actual brick-and-mortar, four-walled space of the physical variety. The artist and cultural instigator has become something of a darling of the local press, and for good reason: With the help of various coconspirators, he just opened his third venue in approximately six months. All are situated in West Dallas, and the first was Deadbolt Studios, a working space that has held at least one open-house; the second was Ware:Wolf:Haus, a gallery that has also held the occasional live performance; and finally, the brand new Vice Palace, which is a music venue.
Vice Palace opened just last night, and Peña maintains that it will be "strictly" for music. The early reports indicate that last night was a very well-attended music event considering it was Tuesday night. I decided to ask Peña a few loaded questions about his new music space, before he opens West Dallas' first arboretum or the Trinity Groves Planetarium without me being quick enough to properly comment. Apologies for this being a discussion over social media, but Art and I are both very busy…
FrontRow: How far is this space from your other space, Ware:Wolf:Haus?
VP is just a few blocks away. Between Deadbolt, WWH and VP I think I've got a nice little thing happening in West Dallas.
FR: Why the name, Vice Palace?
A few things. Vice Palace is a musical that was originally written to promote Divine (from [John] Waters films). I like that bit of connection and that was the first time I heard the two words together. It's stuck with me since it has that kind of trashy vibe to not only the actual musical—but to Divine as well.
I wanted my new space to have a different energy than WWH. WWH is a kind of serious name and honestly the work that gets shown in there is serious as well, highly curated and considered. Not that the shows at VP aren't but I want VP to be strictly a music venue. With its location, it is welcoming everyone to West Dallas. I want people to know that they are entering a location that is ready to experiment and also a place where you can let loose with your drinks in Trinity Groves or artistic energy. I want VP to be a free-for-all for musicians, such as WWH is for artists.
FR: Why do you feel that it's necessary to constantly be involved in music-related activity? Many of your peers seem content with making excellent art and listening to terrible music—why are you so pro-active?
I don't know what most of my friends listen to. I suppose it's not what I listen to, since a lot of them are absent at the music shows, but that's ok since it can be hard to get out. Personally I feel a responsibility to my city and my vision for what Dallas is and can be. Yes, yes, I know there is tons of talk about what Dallas can be and I would just rather be an instigator for what I want to happen here.
The goal of both VP and WWH is to conflate the awesome scenes and talent here in Dallas. I've always been into live shows, but growing up in the hood I wasn't one to go to house punk shows ,or DIY-style parties. I was a house head in high school and didn't hear my first Sonic Youth album until I was 26. I just thought, "Damn, I've wasted so much time." But a lot of that has to do with some idea of cultural suppression, which is what I'm trying to completely dissipate. I'm like, "Hey, you! You don't have to be 21 or 18 to hear rad music or you don't have to be a gallery hopper to see progressive art."
Both spaces diffuse expectations and you just get to be in the moment with the sound and visuals. Plus, what the f*ck else am I supposed to be doing with my time? Okay, yes, I am in the studio; I write for three sites and I teach three classes. I try to hit all of the art shows in town, then hit the music shows afterward—but I'm alive. Dallas is finally awesome and exploding with cool people. I want to help make their dreams come true. High tide raises all ships!
FR: You went to RISD; what was the musical activity like there and did it at all influence your behavior here?
AP: Before I got to RISD, I was at the Art Institute of Chicago, and that's what opened my eyes. I can't tell you how many apartment galleries were out there. I got my philosophy from those people. If you don't like what's going on, clear all the sh*t out of your apartment, hang some work, invite your friend's band to play, invite more people, buy some brews, and you got your own thing happening. RISD was all work, all day in the studio and that's what I needed at the time.
Everything I have now and all that I'm doing comes from painting. That's first and foremost, and I never forget that. At RISD, there was still some residue left over from Fort Thunder and Lightning Bolt, but what I got from RISD was the importance of community, and surrounding yourself with people who are positive thinkers, f*cking hard workers and above all: Super serious about what they are doing. That's what I've done here. Everyone I know is doing something awesome and that's how I want to keep it. I just don't want to spend my time with people who are naysayers and don't do anything.
FR: What DIY venue in the area do you think has done a good job of pushing the sort of experimental culture in which you tend to be involved? You can also name one not in the area if you don't think there is a good one, hence you opening your own.
At this point everyone seems to be starting something and that's cool. I'm happy that I had the chance to start a space that not only had art, but music. I think that's a model that people are starting to pick up on. That's cool and there should be more. I should be in a position where the band I wanted to play at VP has already played another space. That's just gonna force me to think of other bands, or tap other people to pull something together. My model isn't a specific space but a time. No Wave NYC, late 70s. I had a mentor at RISD, Judy Glantzman, who was there and a played a vital role in the scene. I would ask her about those days and she would say, "We didn't care what people thought, we just did our thing and; we loved it and each other." That's different than—"F*k you ,we do what we want." That's not what I'm after.
I'm trying to make history and that can't happen if you don't reach across the aisle and say, "Hi, do you want to try this with me?" My dream is to see all of the musicians in this goddamn town at an art show and all the artists in this goddamn town at a music show. When that happens I'll probably leave, cause I've done my part.
FR: How will the performances here differ from Ware:Wolf:Haus? Is the space smaller?
AP: The space is way larger. It's a true warehouse with a killer view of downtown. I want people to walk in and be very overwhelmed by the space and be confronted with bands in the middle of the space. It will swallow everyone and that's what I want. I want people to feel small in the space, like they can leave and no one will notice. It's about making the audience feel vulnerable.
FR: What's done more poorly in Dallas? Art criticism or music criticism?
That's not really my role to consider. I make paintings and I show them. I pull shows together and they happen. I'm the conductor and there is a train behind me. If you wanna get on, here's your free ticket.