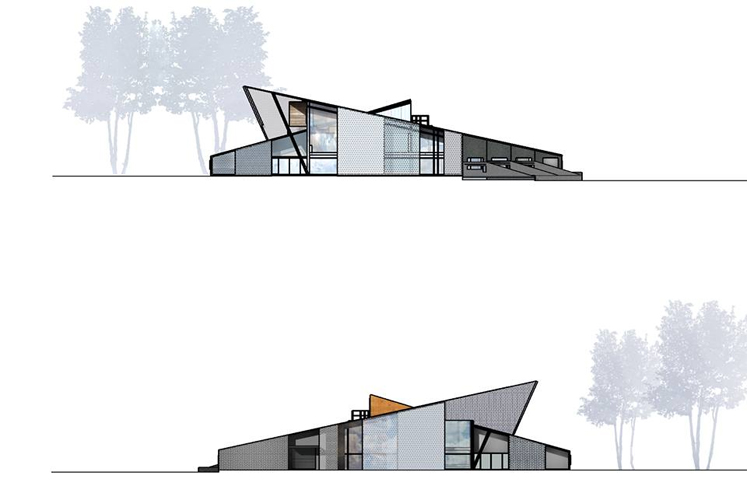 Art Events: Why You Need to Head to UTD's Art Barn This Week
UTD may lose its beloved Art Barn after the end of the Spring Semester. It's a mistake we hope the university doesn't make.
The art event of the week is a closing, this Saturday, at the University of Texas at Dallas' "Art Barn" called Code Yellow. As we mentioned when it opened, the exhibition is an intriguing and ambitious curatorial project, bringing together a number of multiple hat-wearing artists, activists, writers, and photojournalists who have brought together work organized around the theme of crisis. The closing this Saturday brings the show's crisis subtext to bear, because not only will the exhibition come down, it is possible that the Art Barn itself may soon be lost forever.
Though it may not be widely known outside of the UTD community, the Art Barn is one of the most historic and vital art spaces in North Texas. As I wrote some time ago, university gallery spaces play an important role in fostering curatorial practice locally that doesn't fit into the commercial framework of other art spaces. The Art Barn was one of the first and perhaps the most ambitious of these kinds of spaces; many important artists who have come out of — or through — the region has exhibited in the Art Barn. UTD, however, is in the midst of a surge of change. There are plans for campus redevelopment and expansion, enrollment is up, and the university opened its new art facility, the Arts and Technology (ATEC) building, last year.
Now the president of the university says the Art Barn will close at the end of the spring semester, citing safety concerns. [UPDATE, 1:47 p.m.: Susan Rogers, the vice president for communications at UTD, called us to say that the university hasn't yet made a decision to close the space entirely. She did, however, underline the fact that because of those safety concerns it's certain that changes will have to be made in how the building is used — perhaps limiting the number of people who can use the space at once, for instance.]
The problem is there is nothing that really can replace the Art Barn on campus. The new ATEC facility, while it has added capacity for technology-centered art practices, is woefully inadequate in its capacity for housing essential, foundational art practices like printmaking and sculpture. As Glasstire reports, faculty members say the Art Barn still plays an important role in the functioning life of the university's art department:
A longtime faculty member and outspoken voice on the preservation of the Art Barn has been artist Greg Metz, who appreciates the new ATEC for its class room space, but is firm on the value of the older, less elaborate Art Barn. "I have argued for holding on to our legacy landmark for historic reasons, for architectural reasons, to create community and because they left out sculpture [in ATEC], a place to construct, and printmaking and studio space and more importantly, a gallery that can accommodate sensitive issue oriented works, and material demands and installation infrastructure." Metz is referring to the Main Gallery in the Art Barn, a space that does "professional cutting edge exhibitions that have been a vital historic part of the contemporary Arts evolution of this city much less this campus."  The loss of it would greatly effect the Visual Art department's ability to mount rigorous shows, he fears, that would otherwise not be accepted in a more high-traffic building such as the ATEC.
There seems to be a bit of double-talk surrounding the fate of the Art Barn. On the one hand, university officials say that repairing the Art Barn is cost prohibitive. But the school is also planning a number of major, ground-up construction projects. Some of the Art Barn's supporters (notably the Friends of the Art Barn group) have proposed that the Art Barn be part of these new designs and incorporated into the university's vision for the future.
But I fear there is more than just dollars and cents at play here, and rather, an ideological shift in the university administration's understanding of how UTD's art program should be framed and branded, beginning with its cross-disciplinary muddling of arts and technology. Just what kind of change may be evident in another art show opening at UTD this weekend called Artistic Impressions of Management, which promises to explore art as "a catalyst for ingenuity and entrepreneurship—key factors for a successful career in business" and features artists like Brad Oldham, the designer who brought you such memorable pieces as the inane prancing metal gumby-bots in Deep Ellum. The show is indicative of a broader cultural trend which subverts the value of art to the contributions of so-called "creativity" to social and economic outputs. It is the antithesis of what the Art Barn — in all of its brazen, unencumbered pursuit of meaning — is all about.
I've written a good deal about how absolutely important the local universities are to the viability of North Texas art and culture. UTD plays an important role in the region, both through CentralTrak, as well as the students, alumni, professors, residents, and others who have been shaped by the school and who continue to shape the artists coming through the program. The Art Barn is the beating heart of UTD's arts educational ecology. The university should be fighting to preserve it at all costs.
Here are all of this week's openings:
THURSDAY
No Restraint: Activist Zines and Comics at Eastfield College — April 24, 6-8:30 p.m. 3737 Motley Dr, Mesquite, Texas 75150.
BYOB Art History at Kettle Art — April 24, 7-10 p.m. 2650-B Main Street, Dallas, Texas 75226
Experimental Music and Film in the Cedars: Orgullo Primitivo, Habu Habu, Gerard Bendiks, and Experimental Film by Kurtz Frausun at the Union — April 24, 8 p.m. 1531 Gano, Dallas, TX 75215.
Semigloss.Magazine DB14 Issue 5 Release Party at The Texas Theatre — April 24, 6-11 p.m. 231 W. Jefferson Blvd. Dallas, TX 75208.
FRIDAY
2014 Spring Art Mart at Bath House Cultural Center — April 25, 7-9 p.m. 521 E. Lawther Dr. Dallas, TX 75218.
TJ Griffin: Animal Instinct at Ro2 Art — April 25, 7-10 p.m. 110 N. Akard, Dallas, TX 75201.
SATURDAY
DADA Spring Gallery Walk at Various Locations — April 26, 1:30-5 p.m.
15th Semiannual Deep Ellum Spring Gallery Walk at Deep Ellum — April 26, 12-8 p.m. 2630 Commerce St. Dallas, TX 75226.
Recess at Waas gallery — April 26, 5 p.m. – 12 a.m. 2722 Logan St. Dallas, TX 75215.
DB14 Presents: Gary Cannone, Oliver Laric, Miklos Onucsan, Adrian Piper, and Konrad Smolenski at The Power Station — April 26, 6-8 p.m. 3816 Commerce St. Dallas, TX 75226.
Matthew Mahon: Under at The Public Trust — April 26, 6-9 p.m. 2919-C Commerce St. Dallas, TX 75226.
House Party at Brand 10 Artspace — April 26, 6-9 p.m. 3511 Locke Ave., Fort Worth, TX 76107.
Generics by Travis LaMonthe at RE Gallery — April 26, 7-9 p.m. 1717 Gould St. Dallas, TX 75215.
Reach Inside to See the Stars by Randall Garrett at Beefhaus — April 26, 7-10 p.m. 833 Exposition Dallas, TX 75226.
ATAMA Presents: Bloody Franks and Mario at Alama — April 26, 7-10 p.m. 5307 E. Mockingbird Lane Suite 107 Dallas, TX 75206.
Artistic Impressions of Management at the Naveen Jindal School of Management UTD — April 26, 7-10 p.m.  800 West Campbell Rd. Richardson, TX 75080.