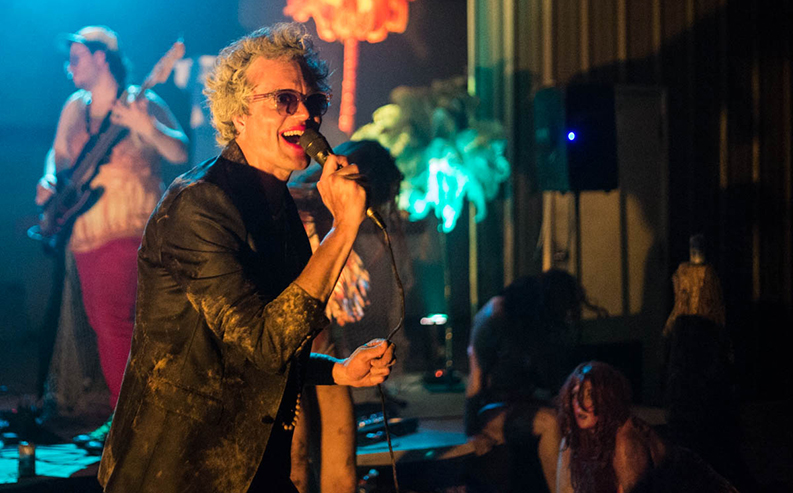 Art and Music Events Blend Seamlessly in Lively West Dallas Weekend
Connectivity strategy worked both crowds at Ware:Wolf:Haus art space and Vice Palace venue.
It's late Saturday night and I still have sand in my teeth. The waiter at Buzzbrews points to his face, as if to say, "You got a little something there." It's true. I still have fake blood and gravel on my cheeks. I can taste perfume and Modelo. A day later, I still have sand in my teeth.
This is what happens when you give yourself up to George Quartz and his band. You become part of the show, the process, the trip. Georgie brings out the animal instinct in his crowd. A friend asked how I was feeling midway through the performance. "Horny," I replied. George is an erotic beast, surrounded by professional dancers acting out a ceremony that is part beach party, part sacrifice.
Maybe you don't have to wait or wish for this city to realize its dangerous creative potential, the kind taken for granted in other major metropolitan areas. Dallas' grassroots scene hasn't just arrived—it's on fire. Saturday night was only a flash of the flames currently searing this town into new unrecognizable shapes, and all across West Dallas there was a certain amount of strangeness to the proceedings. The Thor Johnson show at Ware:Wolf:Haus and the second in a series of George Quartz's Band-In-Residence events at Vice Palace created a vortex of oddities across a half-mile radius of Trinity Groves. In that vortex were nightmares, fears, and hedonism bubbling to a boil, blurring the lines between opening and closing; performance and concert—creating a genuine happening. It began with Thor Johnson—whose work suggest an evil genius but who is by all accounts actually a gentle guy—messing with everyone's head and still ending up selling a decent amount of work. He then hops across the street and dances the night away with Quartz and company.
Johnson's show is full of blood and guts, fisticuffs, and stand-offs. Yet the bad behavior in the work is a mere history lesson. We've been killing ourselves in circles since cavemen and clubs. The artist addresses the violence through a contemporary scope, adjusting for weaponry and technological depictions accordingly.
This is the type of dialogue we speak about only in hushed tones or left to internal thoughts. It's the death we wish on the next-door neighbor whose dogs bark too loudly, or the guy who just cut you off on the highway. It's an examination of our fascination with killing of all kinds, our environment and our selves. Scared yet? Good. Johnson is just getting started.
Mutilated clay figures lay on top of everyday objects and literature—Tostitos bags, Moulton's Meat Through the Microscope and Godwin's Harmony of the Spheres, reminding us that our tendency towards violence lurks in the way we process our food, record history, or evaluate economic infrastructure. The stacked nature of these sculptures—most stabilized at the base by found fossils—reflect the passing of time and the artifacts of our own demise.
Huge glossy prints adorn the walls, depicting images of violence and gang warfare. This could be anywhere—a quiet neighborhood, a football game, a fast food drive-thru line. While the figures appear as nuked-out mutants, the characters in Johnson's world are (d)evolved versions of ourselves, like the creature popping a cap into another creature's ass while wearing a Mavericks hat. 3-pointer for the win.
While Johnson is ambivalent in his stance on his chosen subject matter, Quartz straightforwardly invites you into the dungeon. It has been stated that the mission of the Ware:Wolf:Haus Gallery and the Vice Palace venue are working toward combining the disparate audiences of art and music, respectively. Mission accomplished, in this case. Red Arrow's Elissa Stafford, Oliver Francis Gallery's Kevin Rubén Jacobs, RE Gallery's Wanda Dye and artists such as Shelby Meier, Travis Lamothe and Alex DiJulio all made appearances at a single music performance featuring mostly local acts, which may not have happened if this were just another club around town.
Austin's Silk Rodeo started things off very well as the most accessible act, playing a synth-led set of dance songs that weren't trying to confuse anyone. Merli e Spumante included Matt Leer of Diamond Age, and Ashley Cromeens of Def Rain. This was the first time the two had ever shared a stage and they built up with dub bass and moody passages until the beat finally came in to free up the atmosphere. It was revealed earlier in the evening that the duo had just made up most of the music that day, though that did not seem obvious.
Quartz ended the long evening with an act he has honed over the last few years. The band-in-residence concept requires a fully self-aware precision regarding aesthetic and persona. Quartz is backed by a group of talented musicians sometimes lost behind the singer's stage presence, which is actually a credit to their diligent competence.
The artist imagines the residency as a trilogy. Part I is referred to as simply, "The Introduction," which is followed by Part II, "The Celebration," and will culminate in Part III: "The Ascension." Since Saturday was "The Celebration," we got a look into Quartz's take on what that entails exactly. A literal ton of sand sat in front of the stage, creating a small beachfront ceremonial scene. A dancer (Hillary Holsonback) played the part of the sacrificial human offering. The drama reaches its final pitch as Holsonback acts out her own death in the singer's arms, after being carried by the other women onstage. Meanwhile, dancers weave in and out of the crowd, rubbing sand and dirt into audience member's mouths and faces, staining us for being active participants in our own demise.
It was a beautiful marriage of pleasure and misery. And an art closing that transitioned into a music program seamlessly, with the crowd following suit. At the end of the night, when the music died and the stillness came, there was Thor Johnson, still dancing in the dark.
Photos by Andi Harman. Click to see the full slideshow from Vice Palace.