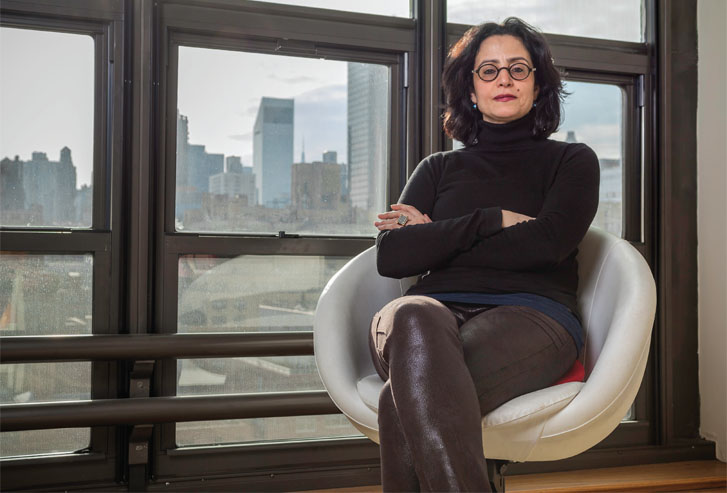 How the Dallas Museum of Art Will Solve Its Islamic Problem
It took 111 years for the Dallas Museum of Art to showcase a major exhibition of Islamic art. Thanks to Dr. Sabiha Al Khemir, it's finally here.
For an encyclopedic museum, it's something of a feat that the Dallas Museum of Art has gone 111 years without hosting a major exhibition of Islamic art. It has been nearly 40 years since the museum has hosted even a small Islamic art exhibition. That changes this month with Nur: Light in Art and Science From the Islamic World. But don't expect that to be mentioned on the promo poster.
The DMA's neglect of such a broad cross section of human civilization (an oversight of, oh, 1,000-plus years of cultural history) is an embarrassment. It also lends Nur an interesting institutional context. Not only does the exhibition offer an introduction to Islam through a broad survey of art and artifacts from the Islamic world, but it also introduces the museum to the person who has been tasked with solving the museum's "Islamic problem," its new senior adviser for Islamic art, Dr. Sabiha Al Khemir.
Al Khemir is one of the world's foremost experts on Islamic art and culture, and her impressive résumé is capped by a stint as founding director of Qatar's Museum events of Islamic Art. DMA director Maxwell Anderson tapped the Tunisian-born historian and curator in 2012, at a time when a number of his high-profile actions (courting a $250 million painting by Leonardo da Vinci, signing a cultural-exchange agreement with the Republic of Turkey) were signaling his goals of making the institution live up to its encyclopedic ambitions. The impact of Al Khemir's hire was felt in February when she helped secure a long-term loan of the Keir Collection, one of the world's most important collections of Islamic Art, which will arrive at the DMA in May.
For Al Khemir, the context of her new appointment was not lost. Dallas-Fort Worth is home to both the fourth-largest Muslim population in the United States and the U.S. president who launched two wars in predominantly Muslim countries. She was lured here by Anderson, with whom she had worked on an Islamic art exhibition at the Indianapolis Museum of Art, and by the prospect of leading the efforts of an institution that suddenly felt emboldened and open to actively pursuing new kinds of cultural engagement.
"I didn't know much about Dallas," she says. "But I was very intrigued. Then Max went to Dallas and took this vision about including Islamic art in the museum with him, suddenly I saw that in a different context. Texas is a powerful context."
Nur: Light in Art and Science From the Islamic World, though, comes out of a completely different context. The exhibition was originally envisioned for Seville, Spain, a city whose history has been shaped by a rich, and sometimes violent, intermingling of Christian, Islamic, European, and North African history. The exhibition became a way of exploring the cultures that make up the Islamic world by exploring a single concept, nur. "Nur" is an Arabic word that means "light," but it is used in both literal and metaphoric senses.
"In the Koran, God is described with a metaphor, and that metaphor is light upon light," Al Khemir says. "Because of the two aspects of the word 'nur,' Islamic art and Islamic culture have the dimension of the metaphorical."
As Al Khemir worked on the project, its scope and scale expanded. The final exhibition contains more than 150 objects, originating from central Asia to Spain, that explore nur as it is reflected in cultural expression and scientific advances in navigation, mathematics, and astronomy. It is this breadth, as well as the exploration of cultural influence, that makes Nur an appropriate inauguration of the DMA's new interest in Islamic art.
The DMA will be the only venue in the United States to show Nur, and Al Khemir calls it a "major first step." But her hopes for the museum stretch beyond an occasional traveling exhibition. She says the dismal representation of Islamic art in the museum's permanent collection must be addressed, and attention should be paid to expanding the museum's Islamic cultural programing. The challenges, though, owe to the tenor of the times, and they are no better summed-up than in a comment left on an article about Nur's run in Spain, which dismisses the value, beauty, and cultural worth of the Islamic world as "a lot of balloony" [sic].
For Al Khemir, this dismissive and confrontational attitude underscores the value of her project.
"I am a witness of my time, of my life, of what I have experienced as someone who was born in that culture, who grew up in that culture, who is perfectly comfortable in that part of the world, and perfectly comfortable here," she says. "And so whatever I do is part of that expression that connects these worlds. People react to that, but I believe that the work has integrity, has inner coherence that has its own power. You put that in the world, and it is part of that work of witness."