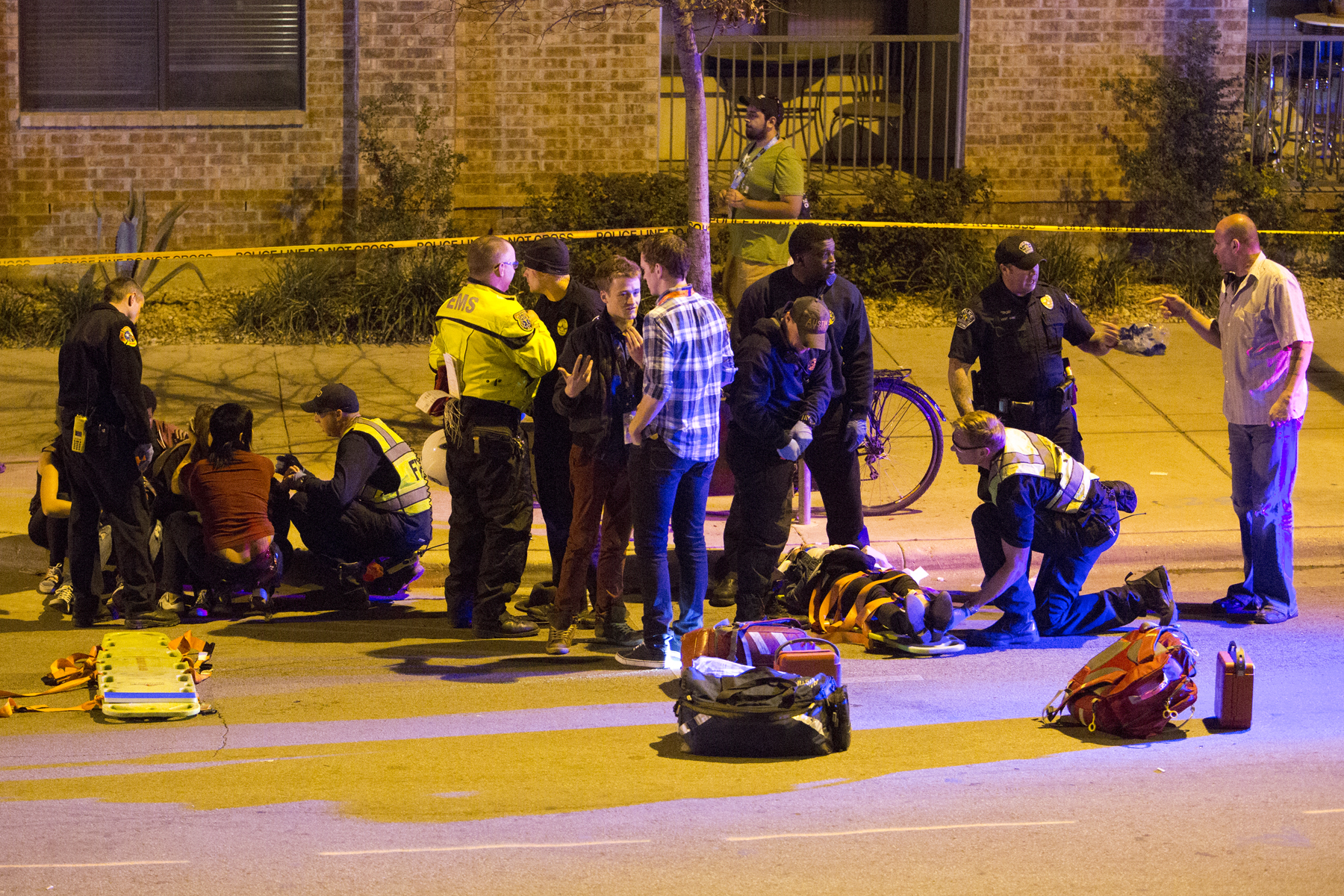 Car Crashes Into Crowd At South By Southwest, At Least Two Dead
The crime occurred early Thursday morning.
Editor's Note: D Magazine's music critic and photographer were already on the scene near the Mohawk Club when a driver, allegedly drunk and evading arrest, crashed through a barricade, killing two and injuring many. The following is a report from the crash.
A police chase led to two deaths early Thursday morning at the South by Southwest Music Festival in Austin, TX. According to police, the pursuit followed a person under suspicion of driving while intoxicated who evaded a traffic stop. The suspect, who was alone in the car, drove the wrong way down a one-way street and into a barricaded area on Red River Street where a crowd of people were waiting in multiple lines for events.
The suspect, who then fled in his vehicle, hit other pedestrians as well as a moped which had two passengers. He continued to flee on foot until he was apprehended, but the moped's passengers, a male and a female, died at the scene, Austin Police Chief Art Acevedo said. At least 23 people were injured. Update per morning press conference: The female passenger on the moped was pronounced dead on the scene. A separate cyclist, who had been struck by the car, was also pronounced dead on the scene, according to Austin Police Chief Art Acevedo. 

Neighboring music venues Cheer Up Charlie's and The Mohawk, where the crash occurred, are situated between 9th and 10th streets on Red River. Cheer Up Charlie's is new in the space, as it moved late last month from its famous East 6th location. It is now planted in the newly canonized Red River Cultural District, the result of a recent city initiative.
I was inside Cheer Up Charlie's with friends when the incident occurred around 12:30 a.m. D Magazine photographer Andi Harman was next door at the Mohawk, preparing to shoot a 1 a.m. performance. As I left the venue I noticed a commotion, with people unnaturally backing up to opposing sides of the street and creating an eerie space where there is usually congestion. Then I saw someone passed out on Red River with civilians and police both attempting resuscitation. Then another body. There was blood, and personal items strewn about the street. A trail of people laying with little movement dotted the entire length of the block.
Witnesses were stunned, and I started to hear word that it was a car that had driven through the crowd we were standing in earlier. Many people were openly weeping. South by Southwest officials lined up around the scene. They started marching, some with bullhorns, and asked people to head, "South, south, south."
At one point a South By Southwest official asks a young man to move down the block unless he "knows any of the victims." The man replies: "I am a victim. I got hit." A friend chimes in: "He was the first one hit."
The man is obviously not feeling well, as he wobbles gently while he explains that he had just spoken to the fire department. He declined to comment.
As we start making our way from the scene, over a dozen emergency vehicles have arrived. Everyone is startled and friends go home early. The Austin-Travis County Emergency Medical Services (ATCEMS) has a Facebook page, and they listed the following statistics regarding the incident:
ATCEMS treated and transported 25 patients (5 critical, 5 serious, 13 minimal) and ATCEMS pronounced 2 dead on scene. Of the 5 critical one patient had CPR performed and Medics obtained a return of pulses. All critical patients were transported from the scene in under 15 minutes and ALL patients were off the scene in 47 minutes to 3 area hospitals at 0119. ATCEMS handled the incident with 14 assets (3 special response units, 2 motorcycle medics, 7 ground ambulances, and 2 commanders). The incident covered a 2 block area on Red River St. from 9th to 11th.
The Austin Police Department plans to charge the suspect, who has not been named, with two counts of capital murder.