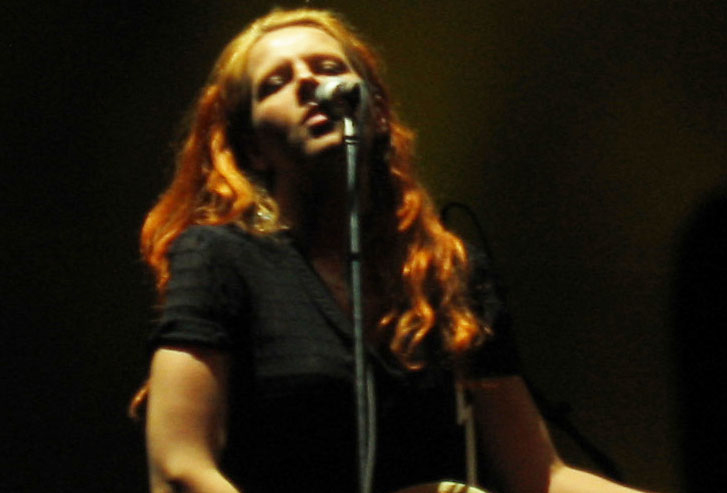 What Are the Week's Best Concerts? Neko Case, Django Reinhardt Festival, and More
Songwriter Neko Case has been a longtime favorite of critics through her rich career.
Tuesday, January 21:
Crushed Stars/Myopic (Good Records): Dallas artist Todd Gautreau's long-running Crushed Stars project has a new album coming out on Tuesday, entitled, Farewell Young Lovers, but you can get a free preview at this live performance on the eve before. In a recent interview with Groundsounds, Gautreau mentioned that he would like to work with the great Richard Hawley, which is a collaboration I would love to hear.
The extremely busy Jeff Ryan will also be making an appearance with Myopic. That would be the drummer's solo project, and it's one that is as sophisticated as Crushed Stars, since they both have a propensity for modern composition and less pop-structured material. That's all tied together by the fact that Ryan has performed with both acts, and plays extensively on the new Crushed Stars' record. You can catch Crushed Stars again with Pleasant Grove (who Ryan also drums for) on Thursday. The show begins at 7 pm.
Wednesday, January 22:
The Creature/Lechuguillas/Vulgar Fashion/Aokigahara (Rubber Gloves Rehearsal Studios): It's encouraging to see that former Chicago act/now Austin, Lechuguillas are still at it. The group was associated with the modern legend of a Chicago venue, The Mopery, which closed in 2010, and also hosted acts such as the locally-connected, Tiger Hatchery. The block on which the venue stood has been unfortunately gentrified beyond all recognition from what I've been told by current Chicago residents. My point is that bands as explosive as Lechuguillas, along with the open-minded venues that host them, are often not long for this world. Exploit your luck by attending this show, which is lined with extreme talents.
Thursday, January 23:
Neko Case/Thao & the Get Down Stay Down (Granada Theater): Songwriter Neko Case has been a longtime favorite of critics through her rich career, even if they unfairly compare her to other, often country-influenced, pop singers who are also female. It all makes me wonder why musical comparisons must always be so gender-specific. Who's to say that Case doesn't actually have more in common with Leonard Cohen than Linda Ronstadt? That's a fair comparison to make.
In any case, it's easy to hear why Case has compelled so many kind words to be written about her. Her most recent record is called The Worse Things Get, The Harder I Fight, The Harder I Fight, The More I Love you. That just made my job much easier, since I think you can draw a lot of conclusions about the material therein from that beautifully constructed title. Her Twitter account is also more revelatory than most of the rather dull thought-waste from more career-minded artists.
Gunplay/Fat Pimp/Xwulf/Word Life/Accomplice/DJ Xanax (Trees): Gunplay is a rapper from Miami with a reputation for living the mythology he perpetuates in his lyrical content, and he does so with a very tough finesse. I do have one request for the rapper ahead of his Dallas show, however. Sir, we don't need the "heroin hurricane" that you boast about in one of your tracks. We have plenty of drug-related natural disasters here, thanks. This is not exactly a show for the casual rap fan, and that's perfectly fine. Trees has quickly become the most reliable venue for hip hops shows of late.
Friday, January 24:
Django Reinhardt Festival (Arts Fifth Avenue): One of the 20th Century's most influential musicians certainly deserves a multi-day tribute, and he is getting one in Fort Worth this weekend. There will be French food to honor the jazz musician's heritage, though technically he was born in Belgium, and let's not open the can of worms between those two proud cultures.
Reinhardt's two-finger, highly emotive style had a huge impact on Willie Nelson specifically, if you need to draw a regional connection. Get on the wrong side of one of his more somber numbers in a quiet setting, and it is likely to draw tears. As many imitators have tried to copy the singular technique of his reduced capacity (two of his fingers were permanently mangled by a fire), there is almost nobody as immediately recognizable as soon as it's heard. There was even an entire Woody Allen film made about one of his theoretical copycats, which plays like a Jazz-era fable about a very Kanye-like artist, memorably played by Sean Penn. Hopefully this weekend's memorialists will fare better than the fictional Emmet Ray, and those include, Tom Reynolds, Slim Richey's Stray Gypsies, String Theory Manouche, and Ginny Mac. Documentaries will also be shown. Doors will open at 6:30 pm on Friday and Saturday; 5:30 pm on Sunday.
The Party (It'll Do Club): The lack of cohesiveness between the different factions of Dallas art, music, and nightlife has been an on-again/off-again subject here for decades. But one of the few palpable steps toward unity that the scene—and I'll use that word if I damn well please—ever made or achieved was during the height of The Party. That would be DJs Nature, Select, and Sober—three gentleman who afforded this place a global awareness of the new century's hyper-evolving sounds, in a city that had spent far too long concentrating on a three block stretch of decaying real estate. You likely know Sober as perhaps the quintessential Dallas DJ, but Select now lives in New York, and Nature is in Puerto Rico. So, a Dallas reunion has been tough thus far, though they did meet up in New York for a radio set last year.
The Party opened things up in Dallas with a benign force that smashed long-established barriers of taste, class, and ethnicity. This is a reunion show, and though we can never really go back to how things were in the Party's reign circa 2006, more importantly we can never go back to how lame things were before they came along. Welcome back, fellas, and thank you.
Image: Neko Case via