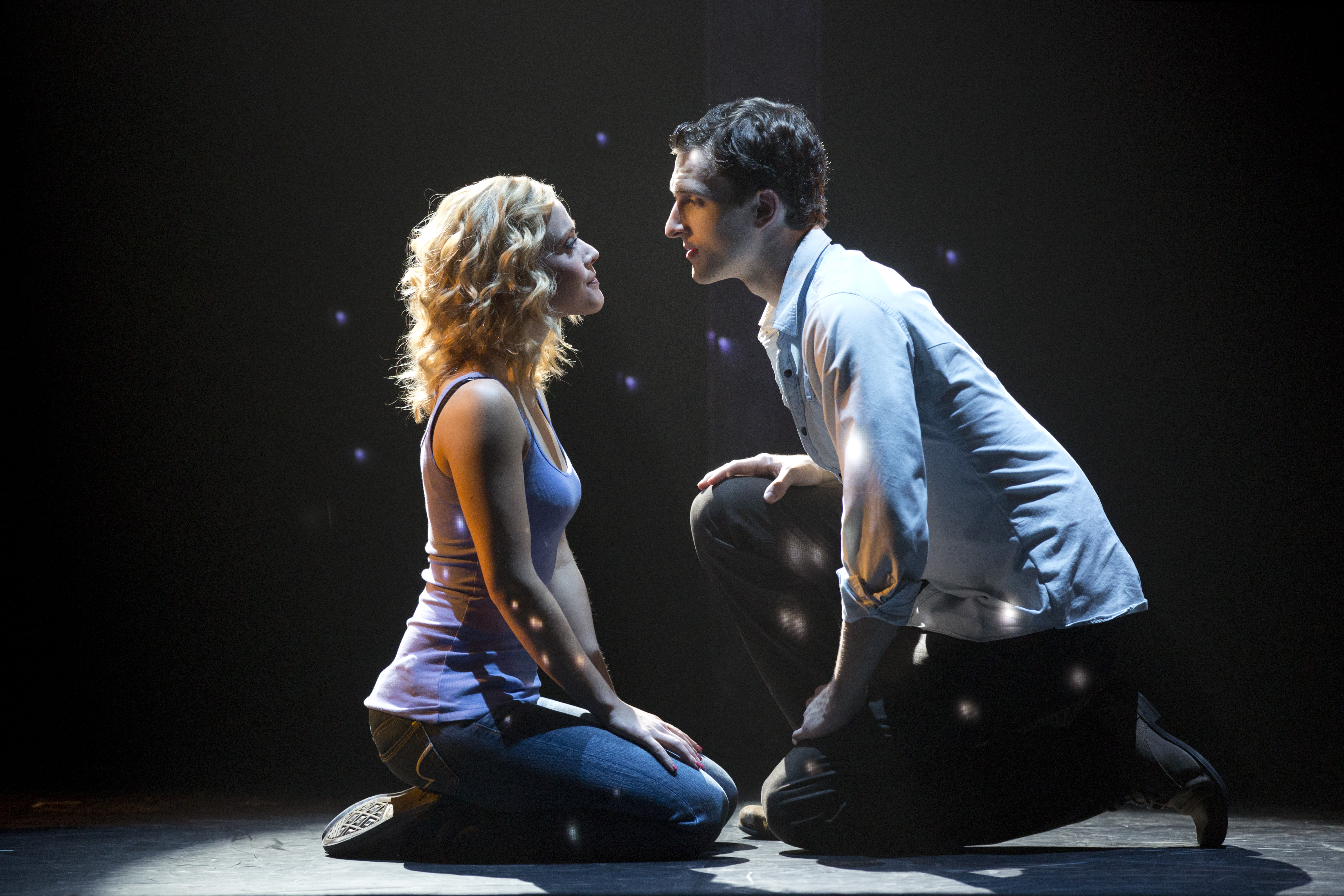 Theater Review: Ghost the Musical is a High-Tech Nightmare
It is also fairly credible proof of hell on Earth.
For its next live musical broadcast, NBC should choose Ghost the Musical. Not because it's artistically important or musically accomplished or even moderately good, but because it would be so much fun to simultaneously hate-watch it with millions of people on Twitter.
The movie-turned-musical suffers from all the mind-numbingly frustrating things that tend to plague movies-turned-musicals, chief among them that it's impossible to escape the memory of the film. Add in a score that has one level (screaming), retina-searing lighting design, a lethargic chorus, and a video-projected set that is often more head-scratching than it is impressive, and it's a wonder this musical ever got green-lit at all.
But when Sam Wheat (Steven Grant Douglas) picks up his guitar near the show's beginning and starts strumming the chords to "Unchained Melody," the audience at Dallas Summer Musicals reacts exactly how the producers probably hoped they would. A deep wave of nostalgia for the 1990 movie—starring Patrick Swayze, Demi Moore, and Demi Moore's overalls—washes over the crowd, and they seem willing to overlook the clumsy storytelling and intrusive design elements in favor of a familiar love story.
Bruce Joel Rubin won an Academy Award for his film script, but that credit doesn't hold much weight with the stage version (which he also wrote, collaborating on the lyrics to an entirely forgettable score with Dave Stewart and Glen Ballard). Without a cinematographer's soft-focus touch, the story's clunky dialogue and glaring inconsistencies are magnified. For instance, after Sam is killed in an apparent mugging,  his girlfriend, Molly (Katie Postotnik), tumbles into a deep depression. She sings about all the things she does—pointlessly pick up Sam's shirts from the dry cleaners—and doesn't do—leave her Brooklyn apartment—while clutching a letter to her chest. "And I write you letters every day/ That I'll never send and you'll never see," she warbles. Where would you send them if he were still alive, Molly? You live together.
As Sam adjusts to his paranormal state, he struggles to communicate with the living. He shouts, he wails, he punches, all to no avail—until he encounters another (much angrier) spirit riding the subway. This scene is the only time Jon Driscoll's hyper video projections and the sparse set work in harmony, overlapping and detaching to create a mind-bending effect of a subway car speeding along the tracks. Paul Kieve's illusions play a part here too, though those generally impressive tricks also pop up periodically throughout the rest of the show. Hard to believe there's a ghost onstage unless knick-knacks float through the air unassisted, you know?
The one person who can hear (but not see) Sam is storefront psychic Oda Mae Brown, played with energy and pizzazz by Carla R. Stewart. Where her film counterpart Whoopi Goldberg relied on incredulity, Stewart goes for full-tilt sass. Her splashy production number "I'm Outta Here" gives her the chance to strut up and over a mountain of ensemble members and Louis Vuitton-ish luggage like Beyonce on a good hair day. Too bad Hugh Vanstone's lighting relies so heavily on flashing out into the audience—a painful, temporarily blinding experience—that it makes it nearly impossible to watch Stewart do her thing.
Ghost the Musical is actually a British import, running for a year and change in the West End before jumping to Broadway and lasting only four months. Acclaimed director Matthew Warchus (Matilda, God of Carnage) was at the helm, a fact that puzzled most critics given the lazy, plodding, and tuneless result. Maybe, when listening to Ghost the Musical, he just heard something the rest of us couldn't.