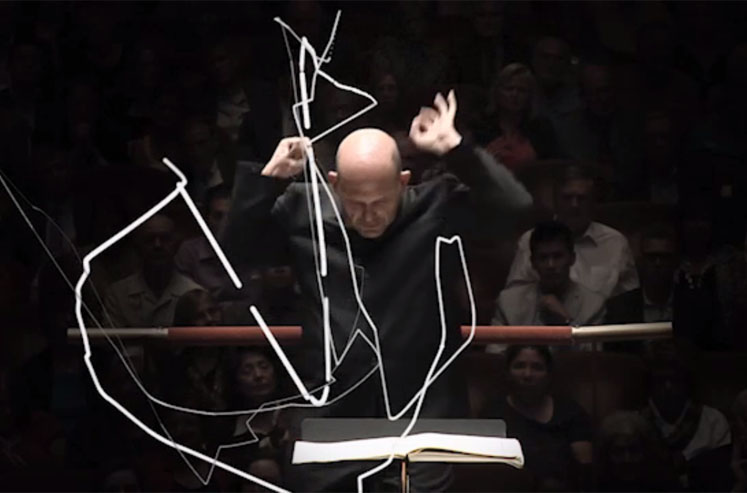 The Opportunity Created by the Dallas Symphony's New Video Series
Jaap van Zweden now has a direct mouthpiece to his audience. He should use it to introduce more adventurous programming.
Like most forms of media, arts journalism has been feeling the pinch for resources for more than a few years. And as more and more media outlets around the country trim their staffs and cut cultural coverage, more and more arts organizations are looking for ways to fill the void. The Chicago Tribune's Chris Jones pointed out late last year that these efforts can sometimes lead to awkwardness, at best — duplicity, at worst. Case in point: the Chicago Symphony Orchestra's "online multimedia magazine" CSO Sounds & Stories. When the project was launched, it was described as the "first brand journalism site by a major American orchestra." The troublesome word, Jones was quick to note, is "journalism." Even though the CSO hired veteran journalists to staff its new webzine, readers could hardly expect to be fed an independent look at the orchestra by an in house publication.
Fair enough, I say. Although I think branding their new site as "journalism" was a poor move, I think readers are smart, and in today's media-saturated world, we are all used to having information fed to us by all sorts of sources, some independent, some compromised by insider industry pressures and compromises (Hello world of fashion blogging!). And while there is something off-putting about an organization like the CSO creating its own previews for its performances (the kinds of advance pieces that drive butts into seats) and trying to pass it off as "journalism," there is also precedent for arts organizations producing their own content about their own performances.
When you show up at an opera, theater, or symphony event, you're handed a Playbill or some other brochure including information about what you are about to see and hear. Often, this writing is as good as or even superior to what shows up in the local paper the following morning, even if it doesn't provide (nor, importantly, does it claim to provide) an independent critique of a performance. Critiques are valuable in broadening a dialogue about a piece, evaluating, recommending, analyzing, and rooting a program in its particularly performative context. But as someone whose musical education was formed primarily by devouring the liner notes on my father's vinyl collection, I also recognize the opportunity the internet creates for arts organizations to expand to broaden the conversation around the art they are presenting.
Last year the Dallas Symphony Orchestra launched one such initiative, a new online video series starring Jaap van Zweden. In it, the maestro introduces the music he is set to perform with the DSO each week. The videos are sharply produced, informative, and insightful, and they do what the internet does best, take the face of the orchestra and help create a more intimate, conversational connection between the DSO and its audience. In the latest video, van Zweden listens to a recording of Dvořák's New World Symphony and discusses its roots, influences, and the role of improvisation in the piece. Certainly the hope of the DSO's marketing staff is that the video piques your interest enough to buy a ticket for next week's performance. But the DSO's video series never masquerades as an independent recommendation, rather it coolly presents the head of the symphony introducing his work on an upcoming concert. The videos are a welcome addition to the conversation around the arts presented in this region, and as the DSO continues to produce them, we'll try to share them.
Of course, it is also worth sharing a link to our own critic's thoughts on the Dallas Symphony's recent efforts. In his look back at 2013 to look forward at 2014, Wayne Lee Gay takes the organization to task for "reactionary programming," concert seasons which rely too heavily on tried-and-true concert favorites (like Dvořák's New World Symphony), while failing to fulfill the orchestra's role in exploring new music, rediscovering forgotten music, and generally working to expand the musical pallet of its audience. As Wayne Lee Gay writes:
Ideally, a symphony orchestra in an American city should serve three functions in terms of the "classical" repertoire. The most important of these is as a presenter—in a sense, as  "museum"—of recognized classical masterpieces. A considerably less important function—and one that belongs primarily to major orchestras in large urban areas—is the exploration of forgotten or neglected repertoire. (It's to this sort of exploration that we owe the rise in interest of Mahler's music in the middle of the twentieth century, for instance.)

But a third role—one only minimally less important than the "museum" role—is that of introducing new symphonic music. And, in that role, the Dallas Symphony is failing miserably.
Here's where I think the DSO's video series can be even more beneficial to the symphony and its audience than it already is. If next week's performance was bringing the working of a living composer to the Meyerson alongside Dvořák's classic (and instead of even more Brahms, as is currently programmed), Jaap van Zweden could have used this new video series to introduce potential audience members to the composer, the piece, as well as his reasons for picking the piece. The maestro now has a way of reaching Dallas music lovers directly, and there is an opportunity to use that medium to help excite audiences about more adventurous musical programming.
As with our critic, I'm hoping the 2014-2015 season announcement brings more than just the habitual programming from the Dallas Symphony. I also look forward to van Zweden leading us into some more unusual musical choices in the near future. As he does, we will share them with you.
You can watch the latest Maestro's Choice on Art & Seek.