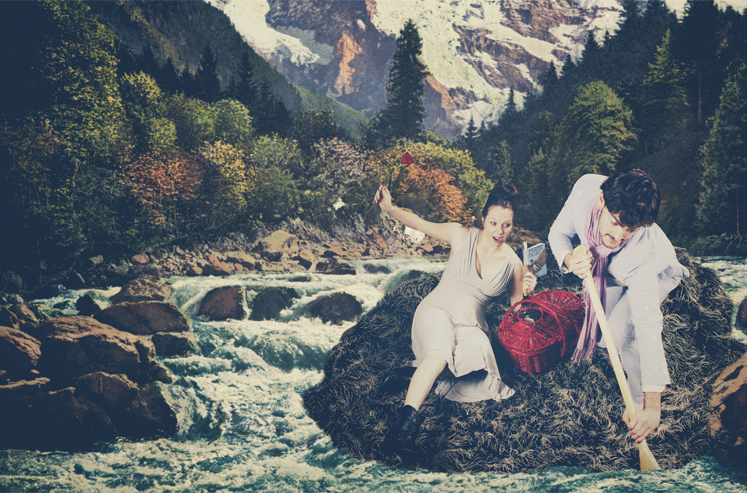 Can Theatre Three Preserve the Indie Thrill of On the Eve?
The show's success doesn't lie so much in its twisting plot as it does in its euphoric songs, innovative design, and passionate performances.
On The Eve starts with a bang—literally. Sirens wail and people cry out as thunderous explosions appear to rock the theater, immediately establishing an unpredictable atmosphere where life's rules are just begging to be rewritten. In the end, the only thing louder than the bombs is the applause, much deserved for this jewel of a musical, which is enjoying its professional premiere at Theatre Three after a sold-out workshop run at the significantly smaller Margo Jones Theatre in late 2012.
The rock musical—another "literally" is necessary here, since the score is written and partially performed by local band Home By Hovercraft—is a certified cult hit. Those lucky few who saw the original 10 performances in Fair Park couldn't stop gushing about the tremendous experience, and those who see this go-round are likely to have the same reaction.
The show's success doesn't lie so much in its twisting plot (the book, the work of writer, actor, and Kitchen Dog Theater company member Michael Federico, is a brain teaser at times) as it does in its euphoric songs, innovative design, and passionate performances. To try and recap the action succinctly is a fool's errand, but you could argue that embarking such a task is much in line with the show's ethos.
On the eve (get it?) of the French Revolution, a poor inventor named Joseph (an earnest Montgomery Sutton) ignores his suffering wife and baby while he tinkers with plans for the world's first hot air balloon. Marie Antoinette (a gloriously dizzy Martha Harms, trussed up like a cupcake in Bruce Richard Coleman's creative costumes) and her simple-minded king (Ian Ferguson) cavort and indulge, oblivious to their subjects' anguish. The Talking Man, a darkly seductive narrator (Gregory Lush, doing his best Alan Cumming), establishes that this story has been told before and will be told again. Only this time, the players unexpectedly revolt and change the script.
The second act thrusts Joseph and his two companions—a talking statue (Maryam Baig) and Chase Spacegrove (Home By Hovercraft front man Seth Magill), a sexy time traveler with great hair—far into the future. The world is now dystopian and post-apocalyptic: "scientific" experiments are carried out on children and language and creativity are the enemy.
Antoinette, who had a revelation of self shortly before her famous beheading, is reincarnated as Marie, a bookworm feverishly searching for the key to restoring free thought. Joseph meets his wife's double (Jenny Ledel), now Marie's self-sacrificing sister, and is given a second chance at love. There's also a hilarious scene with duck and rooster puppets, but it truly would be foolish to try and explain. It's something you just have to see.
It might seem like the show's heart would be in danger of drowning with so many ideas bubbling over on top of it. Not so. The aforementioned score is the driving pulse, leaping in precisely when only raw, meditative lyrics, and hauntingly catchy melodies will explain the ache in these characters' souls. The onstage band, led by Shawn Magill pounding the keyboard, steps up its normal theatricality to suit the outrageous alternate world that director and set designer Jeffrey Schmidt has transitioned beautifully into the normally problematic Theatre Three space. Irish step dancers Abbey Magill and Shannon McCauley, such an integral part of the show's unique sound, are the only thing that seem to get lost in the shuffle, hidden mostly behind a nearly opaque curtain in the upper back corner.
On The Eve continually reminds its audience of the dangers of conformity and submission. It heeds its own advice, eschewing the traditional and laying claim to an entirely original, absolutely thrilling theatrical experience. Get your tickets to this revolution.
Here's a sampling of music from On the Eve: