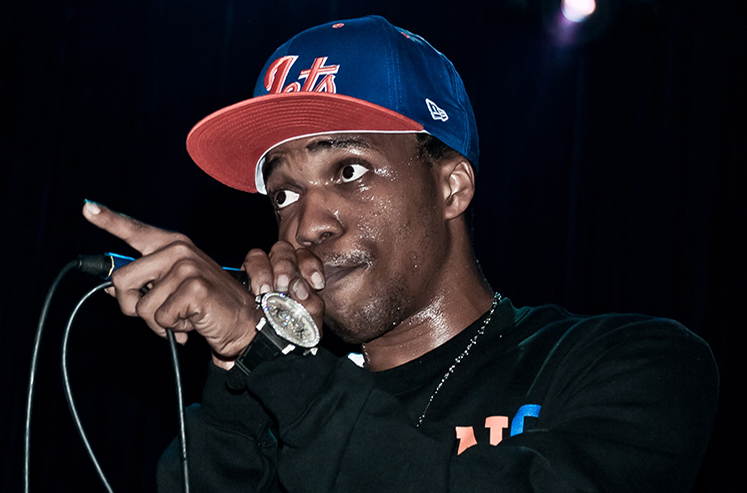 Why Denton's New Science Projects Love Christmas
When will this gang just cut it out and admit they love Christmas? They have a holiday-themed release for goodness' sake. They're not fooling me.
Curren$y/A.Dd+/-topic/Kydd Jones (Trees): Earlier today a young and occasionally opinionated friend complained to me that Curren$y is "very 2011," but I won't let that sort of hyper current peer pressure stop me from attending this free show. To be fair, that's when Curren$y's big label deal went into effect, hence the heightened profile that year.
You will have to RSVP through Red Bull to attend and the chance to do so is dwindling quickly. I would often rather pay 20 bucks as opposed to having to sign up to some spam-happy RSVP list, but that's me. Do you really need my "public profile, friend list, email address, birthday, hometown, current city, photos, personal description and likes" for me to see a concert? I have most of my family blocked from seeing that stuff on Facebook, and I prefer cash. It's anonymous.
The locals (A.Dd+ and -topic) make this a well-rounded bill, and Kydd Jones hails from Austin so it's worth it based on that alone. How many times a year do you see an Austin rap act, and why is that?
New Science Projects/Elesh Norn/Losing (Macaroni Island): The invitation for this event was 488 words long, and it's in the form of an alliterative one-sheet for a Christmas film that doesn't exist. In it, the author imagines the show as being that film and even assigns fake movie review excerpts to local publications with which you are probably familiar. The fake blurb attributed to D Magazine is as follows:
'is guaranteed to enchant, delight, and befascinate' [sic]
If there were a New Science Projects' Christmas movie, I would likely be the reviewer. So let me comment on some of this. For starters, I have only reviewed one film this year, and it was a documentary about misguided drone strikes. That may actually be lighter viewing than what I would expect from a theoretical New Science Projects' Xmas vehicle.
If it were directed by Gutterth label head, Michael Briggs, as the invite also states, I imagine it would be like one of those tacky Nine Inch Nails Broken VHS bootlegs that the kids used to go crazy for at Bill's Records. That film was even yanked from Vimeo earlier this year after briefly resurfacing. I can just picture it: Santa preparing some sort of body bag. Tortured reindeer surrounded by flies. I'll pass.
When will this gang just cut it out and admit they love Christmas? They have a holiday-themed release for goodness' sake. They're not fooling me.
"Lost Generation" (The Crown and Harp): Tonight's guest is "Gus," otherwise known as Convextion, in addition to LG resident, Blixaboy. Tape Mastah Steph's "Funkology" will be taking place downstairs at Crown and Harp as well.
"Vibe" (Beauty Bar): Dallas DJ Doob is appearing tonight alongside Colly T, and the artist recently turned in a bass music version of Miley Cyrus' "Wrecking Ball," which you can listen to by going here. In addition to Doob, tall boys will be on special, so you basically know what you're getting into with that limited info.
"80s Night" (Hailey's): 80s night is back in Denton, at least every other week, thanks to Yeahdef. The invite says that Spune Productions/We Denton Do It's Glen Farris was the originator of 80s Night at Hailey's. Is that correct? That's a mind blowing little trivia fact if so.
Other Thursday Events—
Boxcar Bandits (Sundown at Granada): Did you know there is such thing as a Thunderbird Mandolin? It's true.
 Update: DJ Sober's "Big Bang" will take place in the basement of The Travis, which will act as the official after-party for the aforementioned Curren$y show.
Image: Curren$y, appearing at the Come Up Show, October 2010. Via.