On a Saturday Night in late November 2013, a trio of acts with ties to the North Texas underground of the mid-to-late aughts converged upon a gallery space turned music venue in Brooklyn to play a show together. These artists were often ignored, marginalized, or worse coming up in an often divisive Dallas music scene. Back in the mid-2000s, North Texas was a less confident and realized artistic community than it is now, though it was still spilling over with a  constant hum of activity that would prove fruitful years later. Despite the local skepticism, each of the acts went on to attain levels of national notoriety in their various projects. Now members of each band have either relocated to New York, or they at least receive accolades in the national press often not seen at home. The show in Brooklyn was the album release show for a particular band, Ejecta, and the following is an attempt to follow the trajectory of the once factionalized Denton to the later successes of the individual players, now reunited for an evening in Brooklyn.
Introduction: "Somebody Died with a Better Manuscript."
I'm sitting across from artist and singer Leanne Macomber in a Manhattan bar called Ten Degrees, and we're arguing about JD Salinger's service record during World War II. This is something that you do when you engage in conversation with Macomber. Even poor old Charles M. Schulz's war record comes up. She's not impressed that Salinger had six chapters of Catcher in the Rye on his person when he landed at Normandy. She's an avid collector of war memoirs and thick, dry, tomes of war history, including some on topics as obscure as gender during the Civil War. She's speaking to me as if I'm an idiot. "I don't think you understand what a soldier is," she declares at one point.
"Maybe somebody died with a better manuscript in his pocket," she says. Macomber was a controversial figure when she lived in North Texas, and it's easy to see why. She had standards. She refuses to watch the newly hyped documentary on the author because she doesn't want to ruin her idea of him. "He's an asshole," she says. "All those writers were." Then she says she loves him too much to spoil the mystery.
Future Punx Past and the Gender Divide in Yesterday's Denton
The conversation follows the drink specials through Manhattan on a cold Monday night in November. There were record lows and face-punishing winds all weekend, but that didn't prevent Macomber's newest band, Ejecta, from playing a successful record release show for the band's debut album, Dominae, at Glasslands Gallery in Brooklyn. I first came across Macomber's music when she was playing a Men Against Violence Benefit at Rubber Gloves with her band, Christian! Teenage Runaway in 2006.
The show was opened by another North Texas band that also featured a member of Christian! Teenage Runaway, Vulgar Fashion, which includes  C!TR's Julie Mckendrick, as well as Andrew Michael, who was performing randomly in experimental and noise acts at the time that band was still operating. The three would go on to form Rival Gang upon the dissolution of C!TR.
Also on the bill was  Future Punx, a Brooklyn-based band featuring former Denton musicians, Chris Pickering and Jason Kelly. The two have played in too many notable bands to name here without getting geeky, but they've performed in Fergus and Geronimo and Teenage Cool Kids to summarize. Both acts evolved out of Denton's melodic punk scene, which centered around the eponymous house venue, 715 Panhandle.
Finally, the only act with no Denton ties on the bill was Chairlift's Caroline Polachek, who acted as DJ between sets. But even that's not entirely true—Macomber toured as a member of Chairlift as well.
Though Michael, McKendrick, Macomber, Pickering, and Kelly all existed in North Texas during roughly the same years, there was a noticeable divide between the artsy skronk, noise, and LGBT-friendly crowds, and the seemingly more traditional and yet younger punk crowds. There was always crossover, of course, but I remember Macomber complaining of how the new younger ladies she saw around town just wore pretty dresses and watched their boyfriends play in punk bands, as opposed to starting bands themselves. I asked Pickering what he thought of the old days.
"I think Leanne [Macomber] made a comment about it at some point to someone, about why didn't we ever ask Christian! Teenage Runaway to play at 715 Panhandle," says Pickering.  I don't think we were trying to separate ourselves in Denton. That's just how the scenes were right then. I may have seen them play at Yellow House or something like. Had we had known that they were wanting to play, we would have gladly had them."
When Pickering is onstage with Future Punx, I am surprised by his most recent angular turn in music. I had seen the musician over the better part of a decade, playing in screamo bands, metal bands, punk bands, and even a turn as a popular DJ, which he still does in New York. His newest music in Future Punx is a sophisticated mix of keytars, effects, and drum pads, and I felt almost shocked to see that last instrument onstage. His roommate and collaborator, Andrew Savage, of the aforementioned Fergus and Geronimo, Teenage Cool Kids, and now Parquet Courts, quickly corrects me. "You must have not spent much time around Chris in a while, I take it." It's true.
"We're Future Punx, from here in Brooklyn," says Pickering from the stage. "We also have cassette tapes, not from the future." At their best, they conjure images of MX-80 and similar protopunk Midwestern bands who were making funk chords and nerdery chic long before it became marketable. This group won't have a problem either way, and they will hopefully have a seven inch record out in late Winter 2014, on Dull Tools, the label that Savage runs.
Vulgar Fashion follows Future Punx with a performance that proves they'll maintain their fearlessness in the familiar confines of a small North Texas stage, or a less forgiving New York audience. Singer Julie Mckendrick is exactly as she always is, somehow both attacking and ignoring the audience in the same swoop.
From The Golden Triangle to the East Coast
Now in New York for three years since leaving Oak Cliff, and Denton before that, Leanne Macomber knows where to find a deal in the city. We're now at an oyster bar called the Mermaid Inn, after leaving 10 Degrees. It's dollar oyster night.
I decide to troll her about her old Texas Stomping grounds: "Is Soho or Greenpoint more like Denton?," I ask.
"Well, Greenpoint is," Macomber said. "Greenpoint is like Denton because there are local, staggering drunks. There are kids from all over the world that go there to do something great with their lives."
She says she misses the people of Denton more than anything, which is almost hard to believe considering the backlash she often faced simply for playing music.
As an all-female band in North Texas during an uncomfortably progressive new era, the group faced a lot of intense criticism, particularly online. They were mercilessly heckled in a rare appearance in Dallas proper. It's easy to forget but 2006 was an erratic time when Dallas was struggling with a rapidly changing identity, and nationally, the blogs were having a golden age of creating overnight sensations, very much in the way a top ten 45 did during Alan Freed's reign over popular music. Macomber went from playing to ten people on a weeknight in Denton to having her band Neon Indian play its second show ever at Red Rocks. This all happened in the span of three years.
Macomber explains the dissimilarities in the entertainment business according to region. "The difference between people here and there is that here people will give you the dead fish handshake one minute," Macomber says. "The minute that they find out you're the girl in Neon Indian, they come up to you ten minutes later, give you a hearty handshake, and want to buy you a drink and play a show with you. Whereas in Denton, nobody wants to talk to you… [Laughter]
"It's the opposite?," I ask. "Nobody wants to talk to the girl in Neon Indian, right?"
Macomber laughs again. "Everyone's friendly, or they're more honest with the way they feel about you," she says. She summarizes the small town politics as such: "If they don't like you, they don't like your band," says Macomber. "If they don't like who you f*ck, then they're dismissive of you, period."
I suggest that is still a shallow code. She disagrees, with a bevy of articulate cursing.
"It's different, because they're giving you a genuine response: "You're in a sh*tty band, and I think you're a dumb bitch. And you're a c***s*cker," she says. "And it's like, great, cool. Nobody in Denton thinks they can get anything out of me. They're either my friends, or they're not," Macomber says. "They either hated C!TR,or they loved C!TR, but nobody comes up to me who hated C!TR and says, "Oh my god, I love C!TR." "I love Fight Bite." Nobody would ever say that to me if they didn't. They had nothing to gain from it."
The Album Release Show, According to State
When Macomber is asked if Neon Indian ever had a proper release show, she quickly corrects my thinking of the band as being truly local to a specific place.
"We weren't local to anywhere," says Macomber. "I mean I guess our first show … that was totally different. That was so hyped up."
I suggest that the band had already gone global before even releasing any music.
"It was a national band," says Macomber.
"Your second show ever was at Red Rocks," I remind her, and continue about the cattiness of Dallas press: "It's funny that all these people now have to defer to how popular Neon Indian is, when you go back and read their writing at the time, it's basically saying, 'I can't believe this band is playing Red Rocks as their second ever show.'"
"But, that's the internet," Macomber says.
The truth was that writers, and especially jealous musicians at the time who were not as web-savvy, had not yet accepted that there was a new form of getting a band to be popular. They wanted it to be the old way. Which is not how it worked.
The Iciness Back Home
Macomber remembers the change in attitude from friends at the time. "You can't blame Alan [Palomo] for having that kind of runaway success or unprecedented success. He's had friends who he thought were dear to him who have thought, "Oh, he doesn't deserve it," Macomber says." That is so, so, crushing to me. Because, Alan, not only is he such a nice guy. He's completely made a serendipitous record that went crazy. I don't want to talk sh*t about his friends, they're good people, but I can vouch for the way I was treated for the first time after going out for the first time with Neon Indian," Macomber says. "But it was very, very different—the way people treated everybody."
Macomber seems to unload about the years she would return home from one break after another and find more and more cold shoulders in North Texas. "I think this is an important conversation that [Alan Palomo] and I shared once. I will tell you, and I hope you do share it with people," Macomber says. "He told me about an occurrence where he saw a good friend he hadn't seen since we had this whirlwind. He's finally catching up with this old friend of his and his friend was like, Man, you've changed. The thing I told Alan when he told me that was, "Good." Because wouldn't it be scary if you hadn't? You were given a chance in life and you jumped at it, and you did something productive, with success. A really strange circumstance came along and you didn't blow it. Wouldn't it be weird if you went all over the world and hadn't learned anything?"
The Supposedly New Direction of Ejecta
Though it's been billed as being entirely different, Ejecta is very stylistically similar to Macomber's past projects. Going back as far as Christian! Teenage Runaway, she has written pained ballads, and she even says that much of Ejecta's work consists of many Fight Bite songs that went into a reject pile.
I ask her about why the reaction to Ejecta has been so different from the way people have reacted to her past, lower-fidelity recordings. "I'm always going to make music with Jeff [Williams, of Fight Bite]. I understand why people are put off by dreamy, bedroom-y, warbly-toned, reverb-heavy, music. But what I find funny is how much people don't understand how much that music has influenced electronic music. This might be slicker, or made in Pro Tools, or whatever," Macomber says. "I would say it's people who don't have much of an imagination. They can't fill in the blanks. They don't really love music."
A Stevie Ray Vaughan song is playing as house music at the Mermaid Inn. I joke that two Oak Cliff artists are in the room. Macomber gave Oak Cliff a try shortly before heading to New York, but it was not as fond as her time in Denton. "I feel like I didn't have any social life at all. I ate dinner by myself," Macomber says, even suggesting that it fueled the dark lyrical content of some of the work that ended up on Dominae. "I was living behind some dudes at a garage apartment. All I did was go to work, go home, get a bottle of wine, make my Amy's soup on a hot plate, and go to sleep."
A Unified Denton Takes New York
The most comforting thing about the Dominae release show is that it represents so many different creative tangents and elements from so many subversives who once thrived in North Texas. All the divisions and awkwardness of 2006 have long since passed. When the opening beat of "Afraid of the Dark" kicks in, a woman screams in the balcony and starts dancing. As I watch the band below through the negative space of her flickering silhouette, it occurs to me how much more important the artists are than places from which they hail.
Macomber wants the synth-pop of her record to sound like a true rock band when they perform the songs in the live setting, and they definitely sound like one. She is playing the same blood-stained guitar she played in the early days of Neon Indian, and strumming as she did in Rival Gang and C!TR before that.
"Unbeknownst to a lot of people there, all the bands have roots in a small town in Texas that not a lot of people have heard of," says Chris Pickering, about the show. "That was definitely cool. It was like a little Texas party." Pickering takes the words from my mouth about the larger meaning. "It's symbolic of some of the success that some of the Denton people have had after coming up here," he says. "We might not have known each other back then so well, but being from the same hometown, is reason enough to team up, maybe?"
All photos by Andi Harman.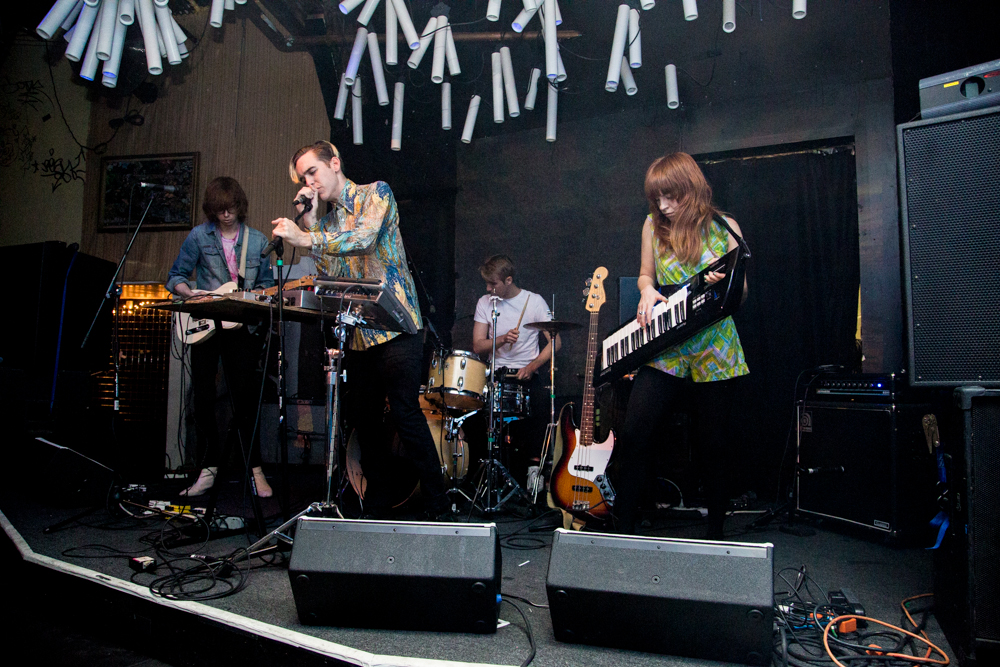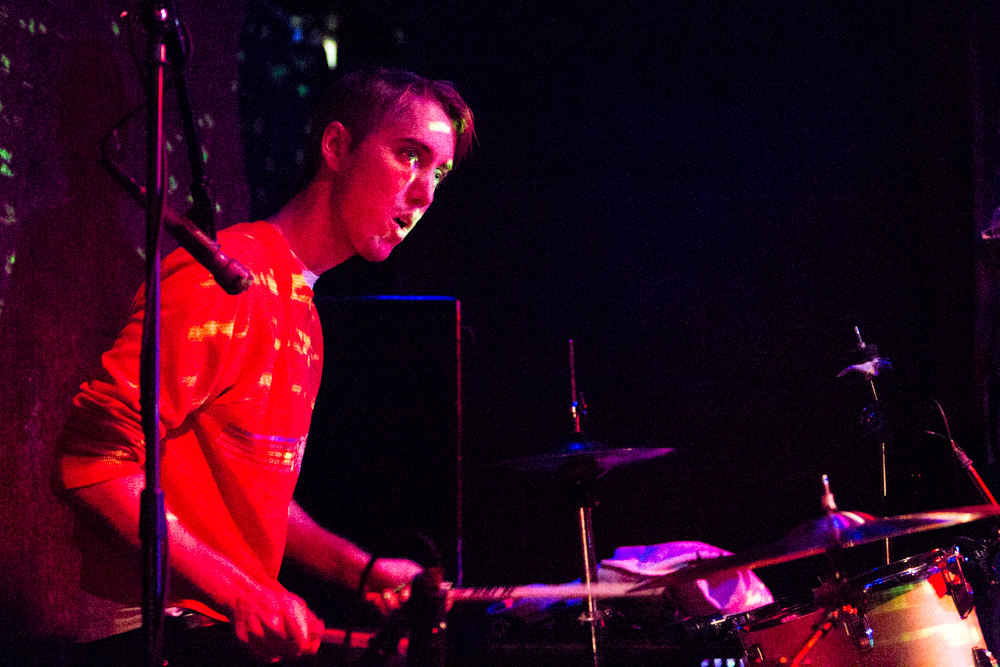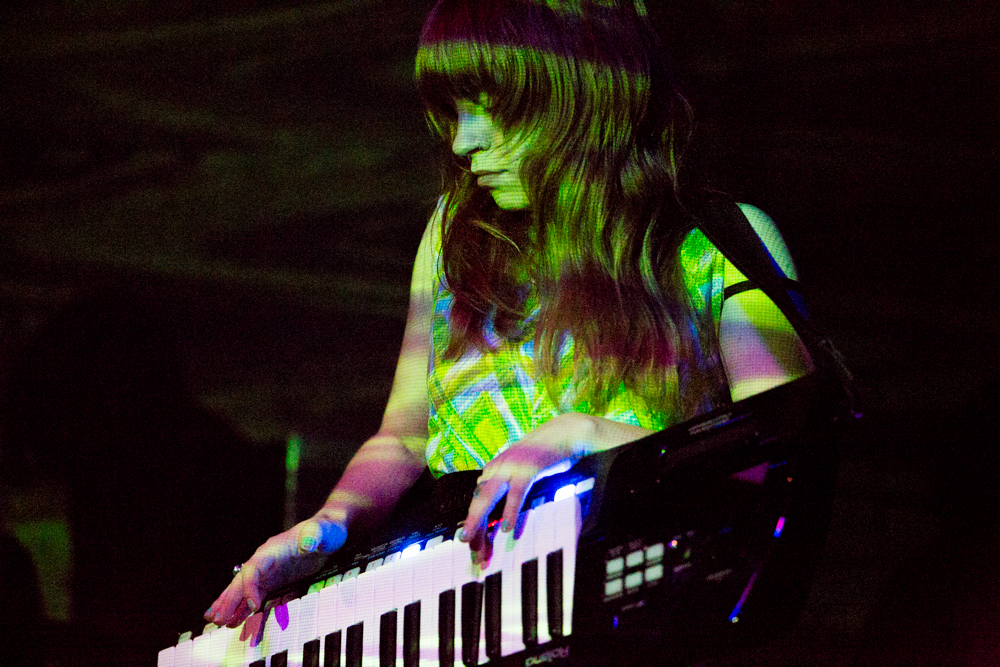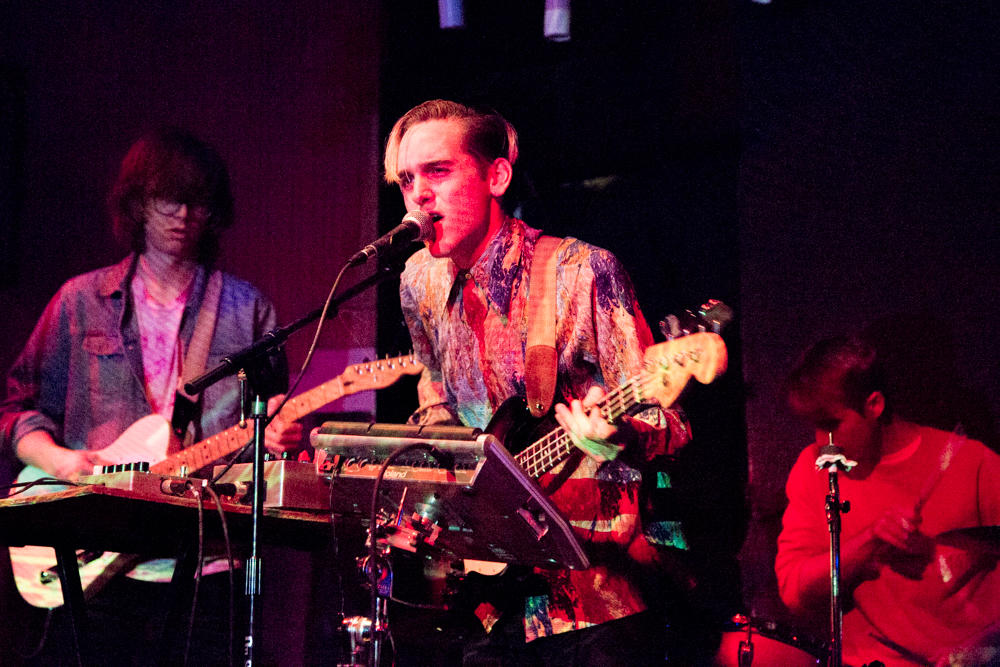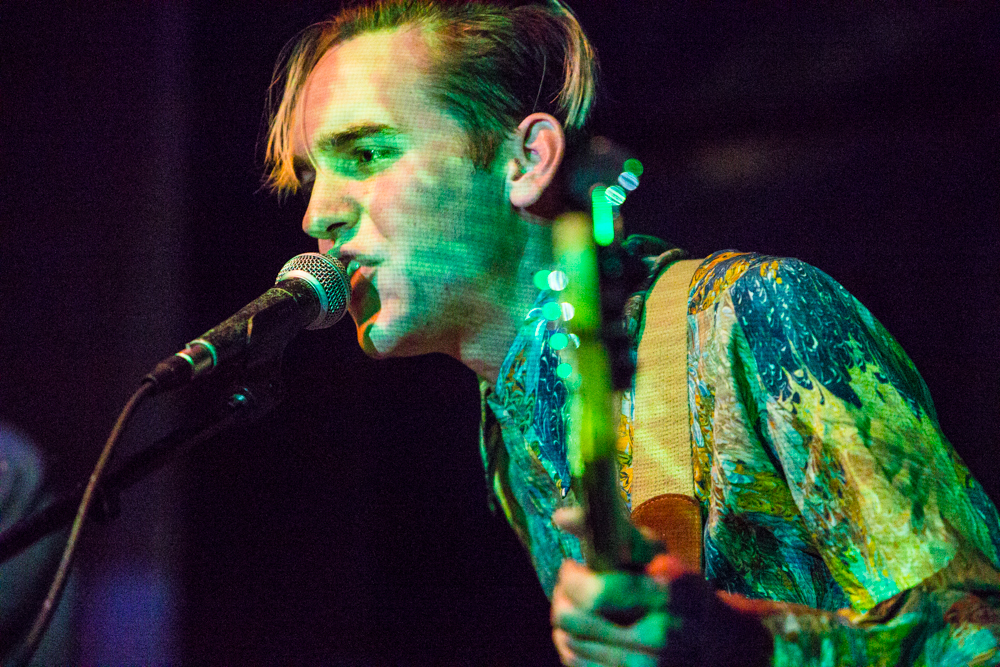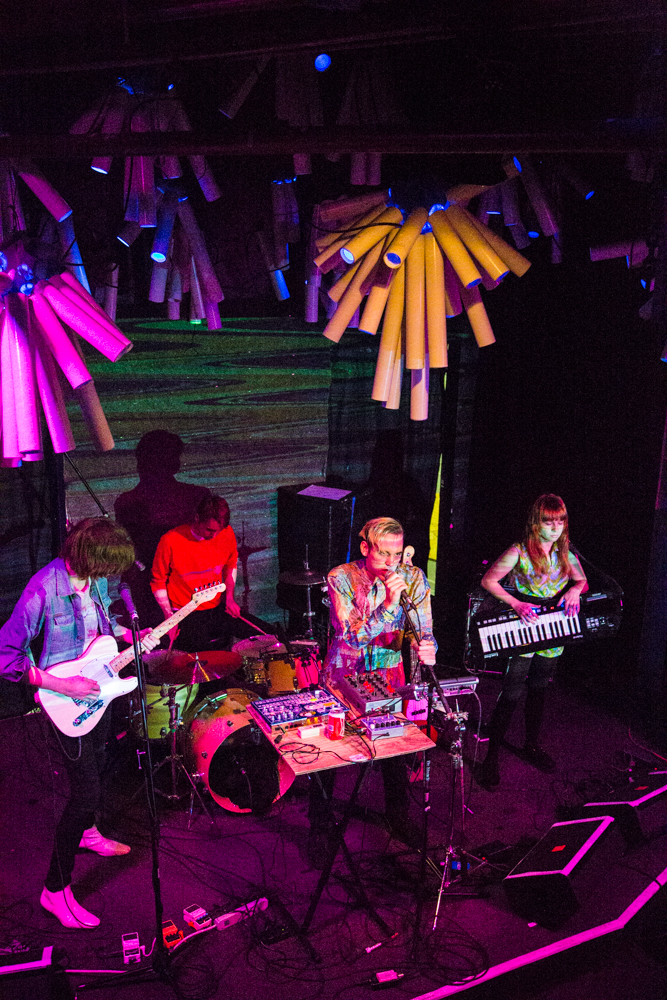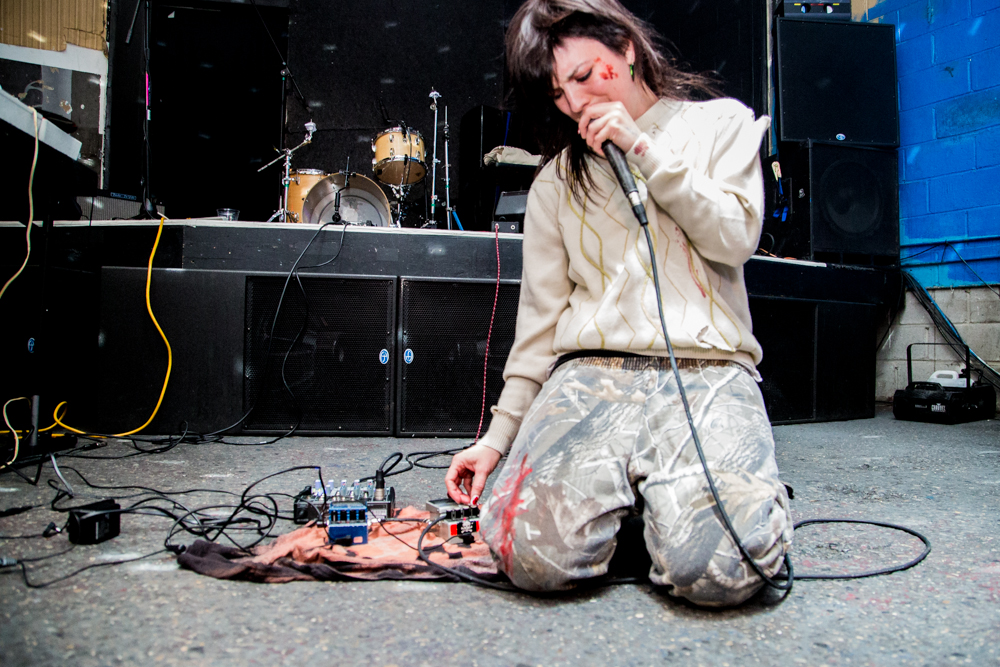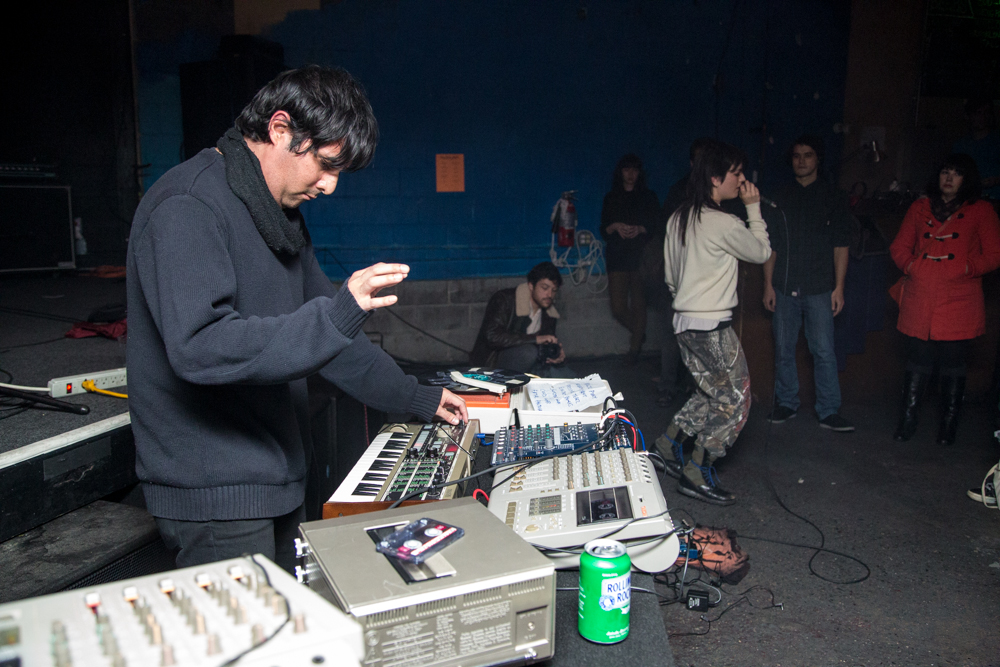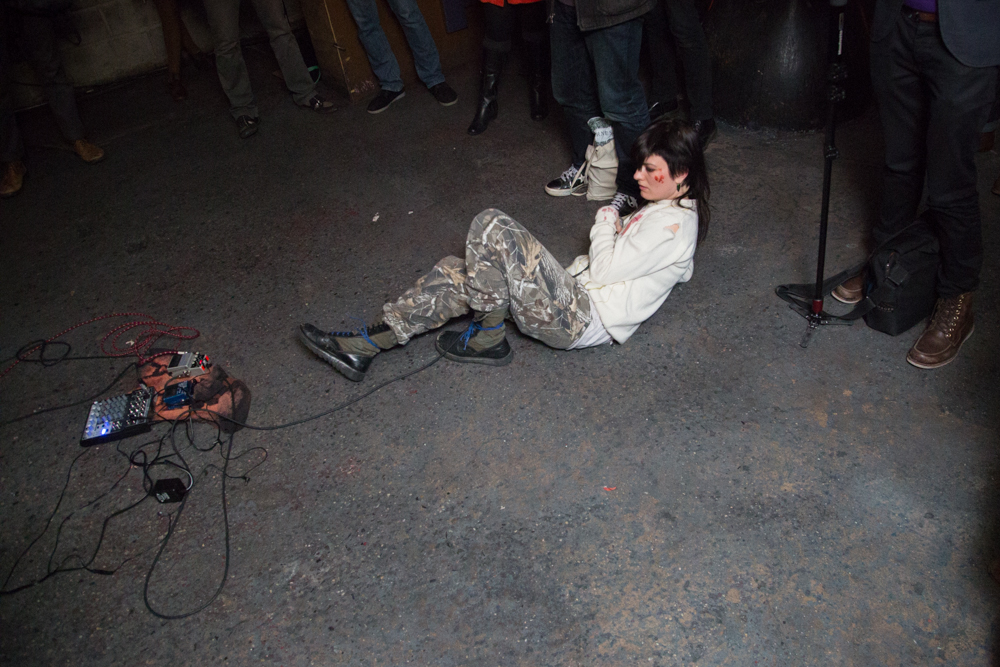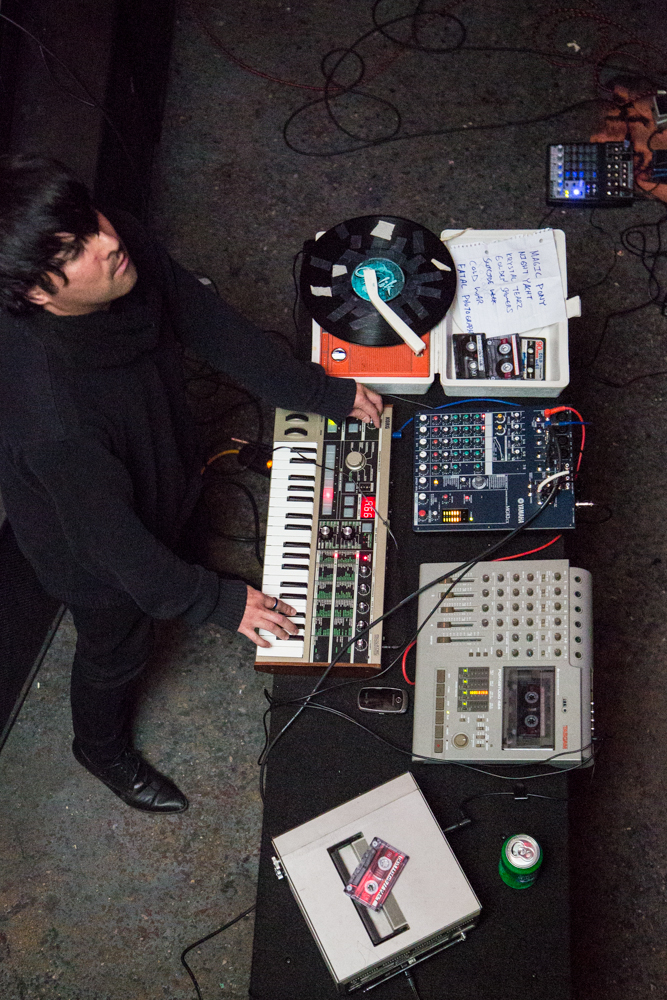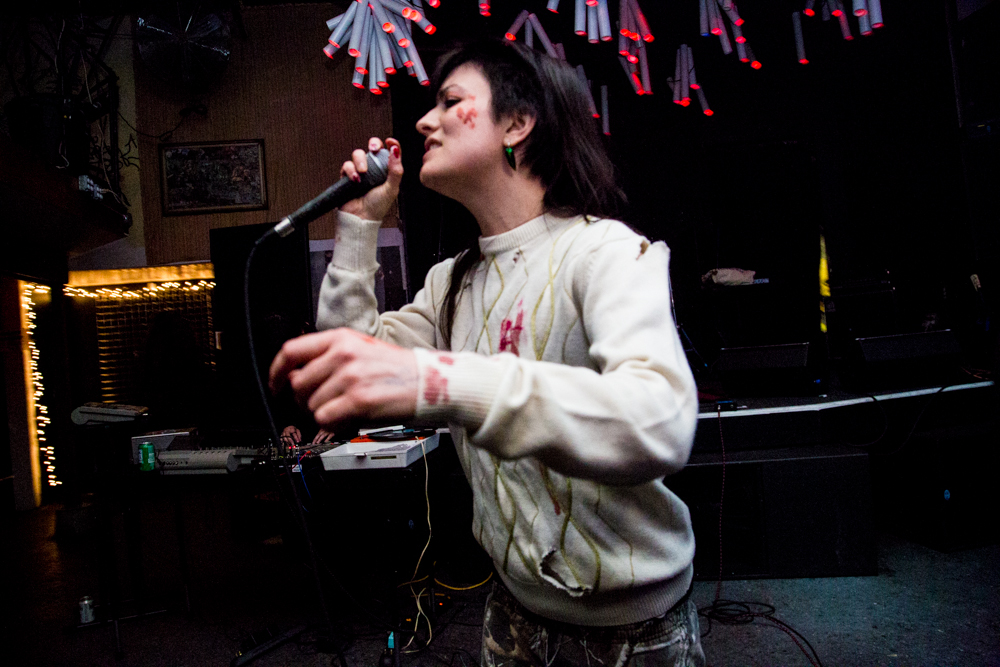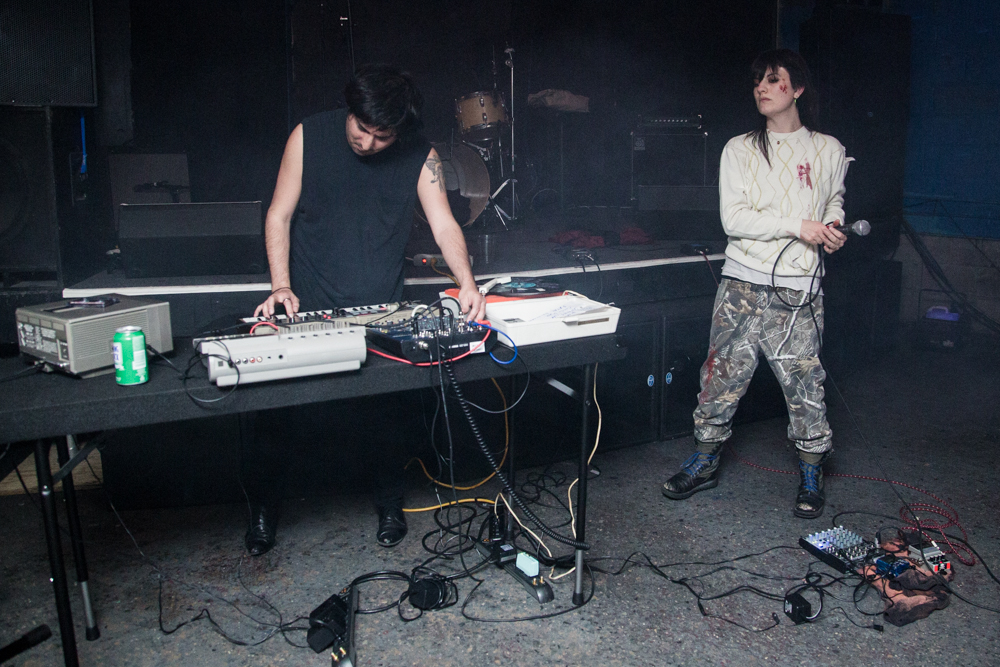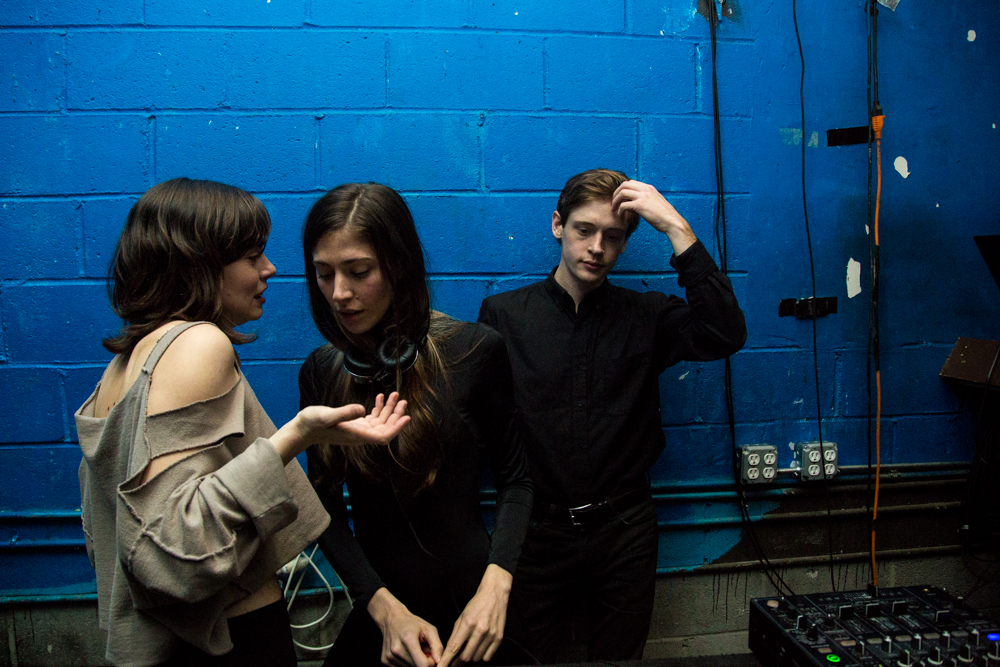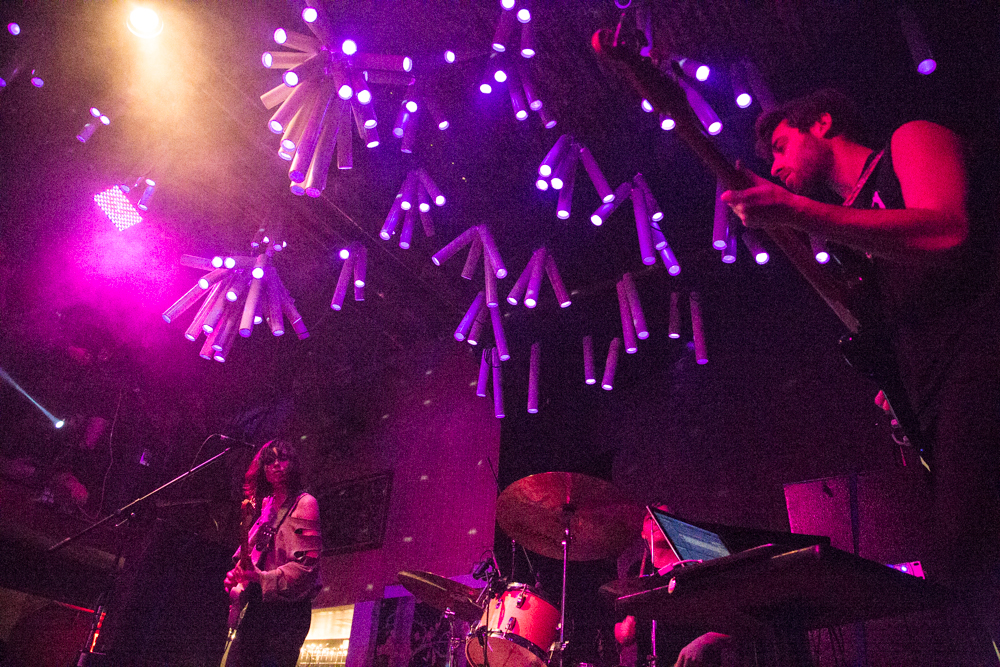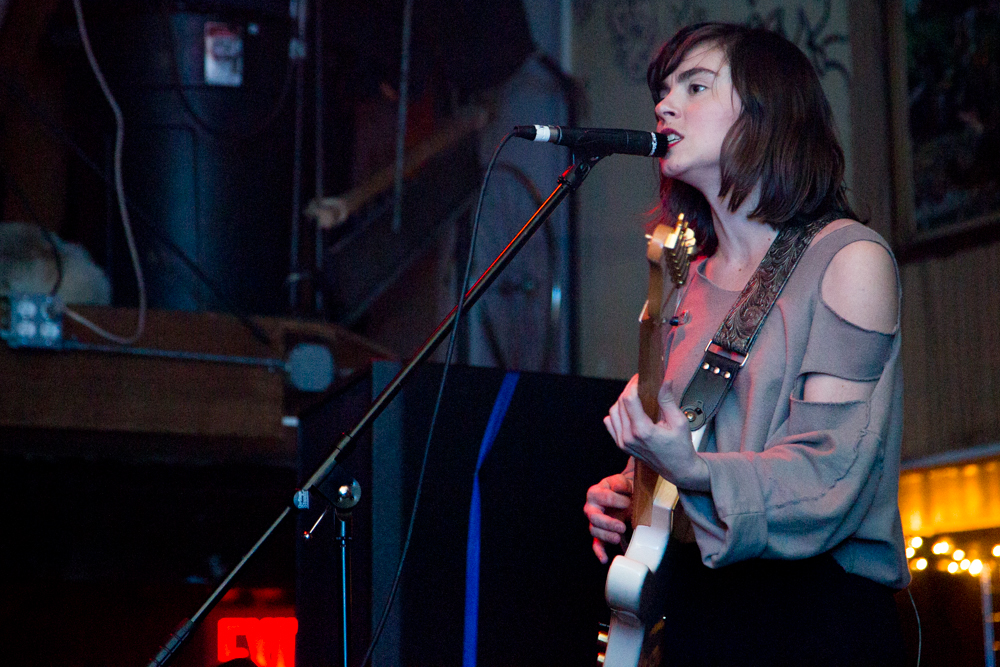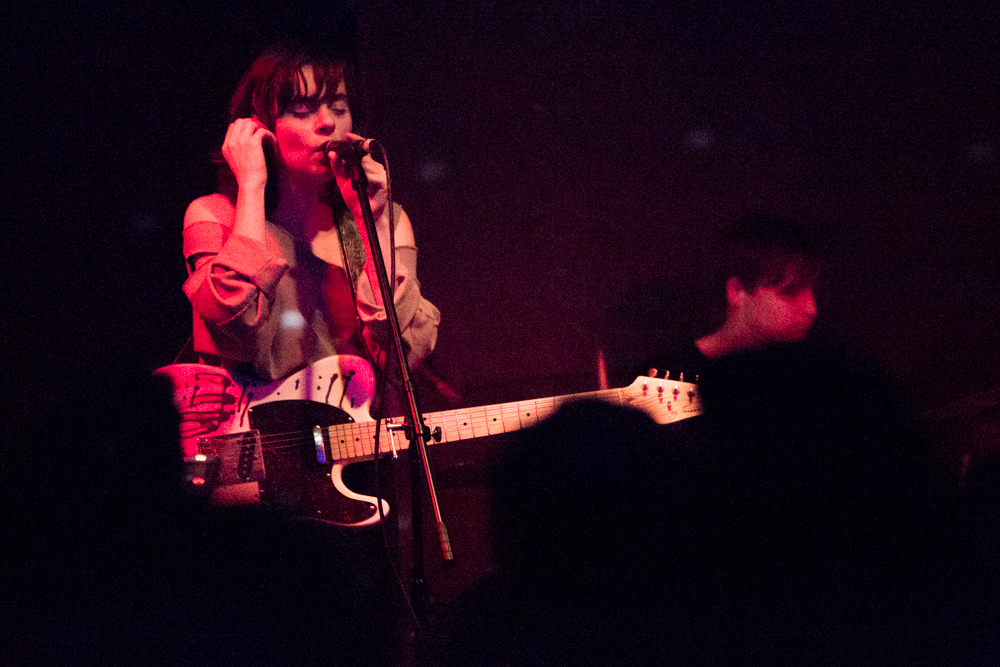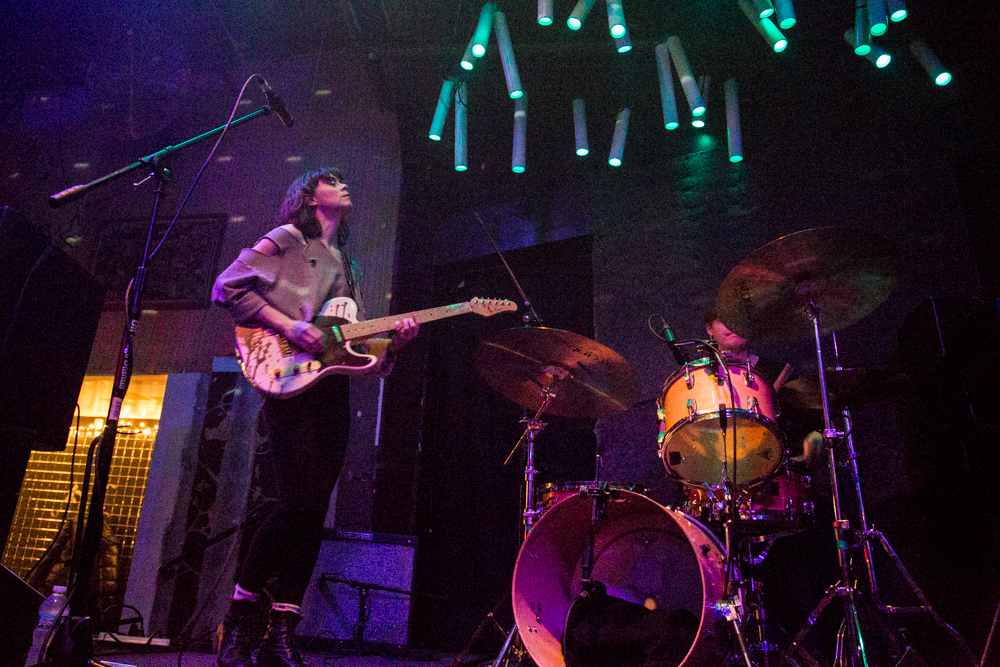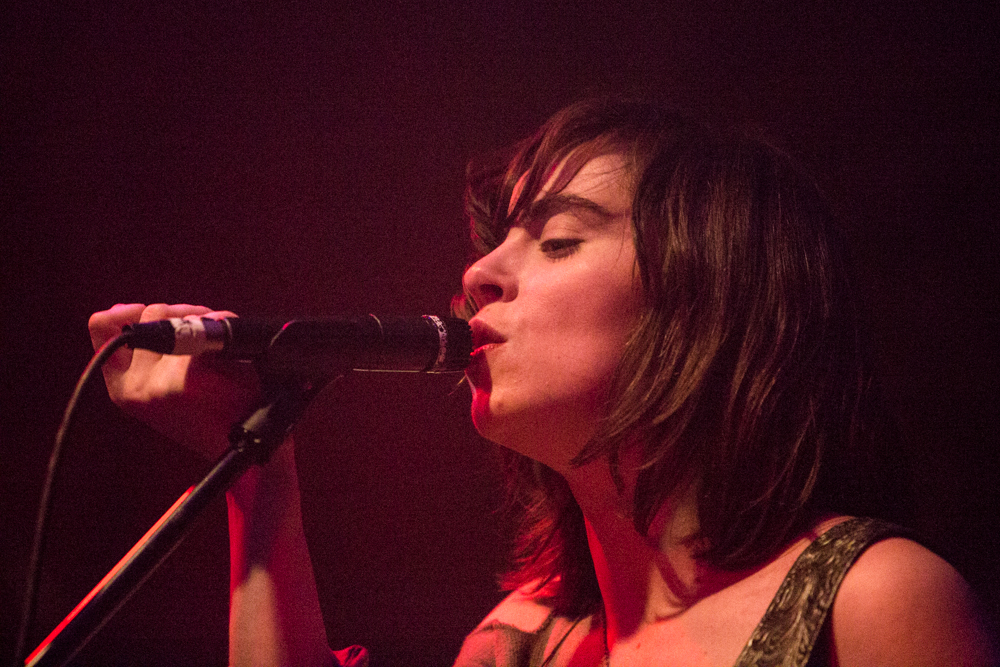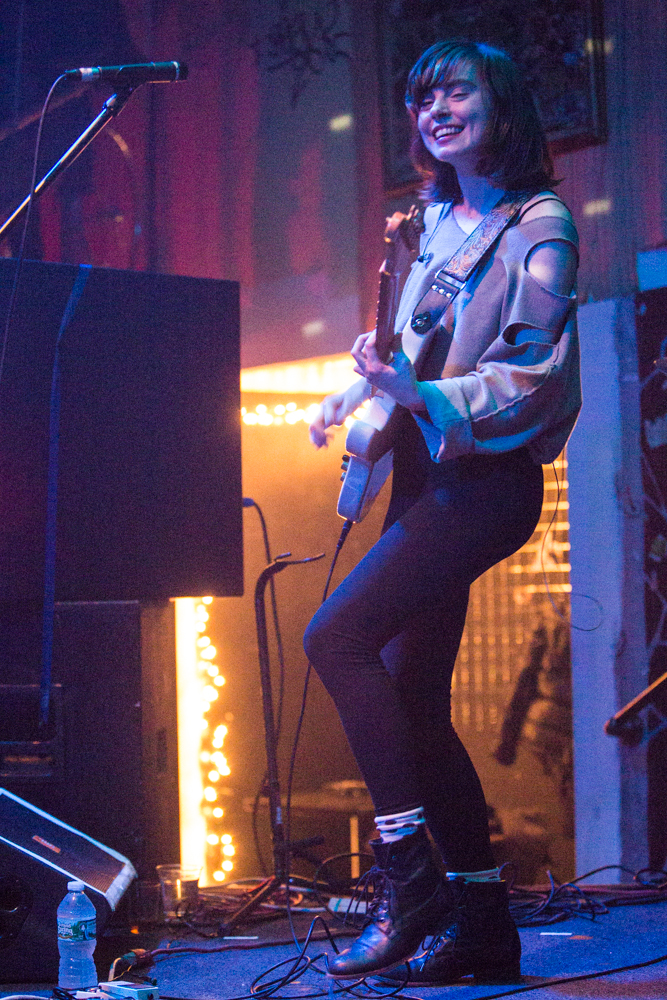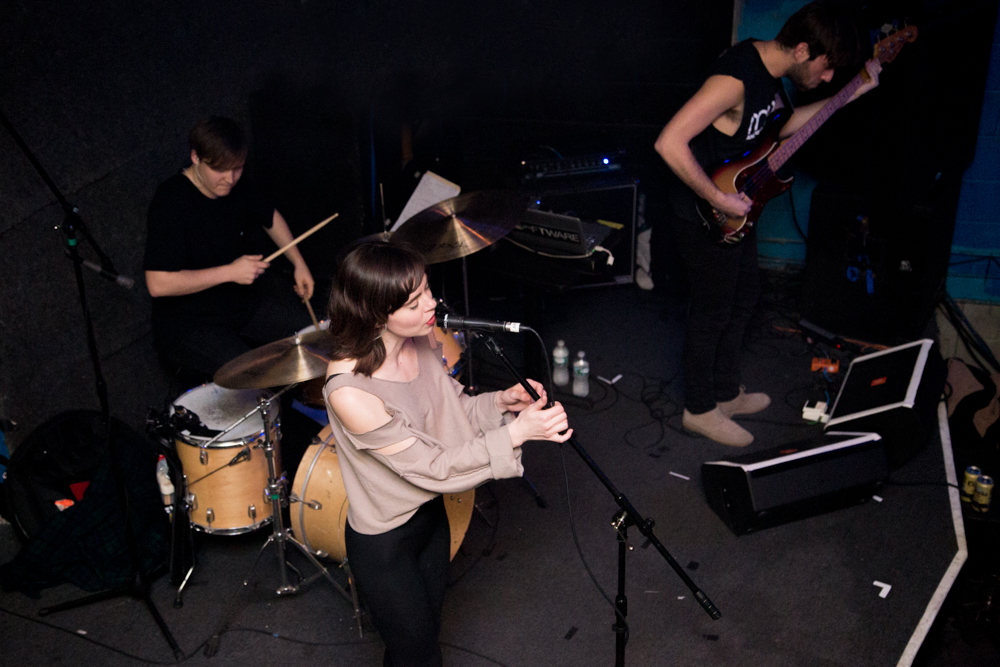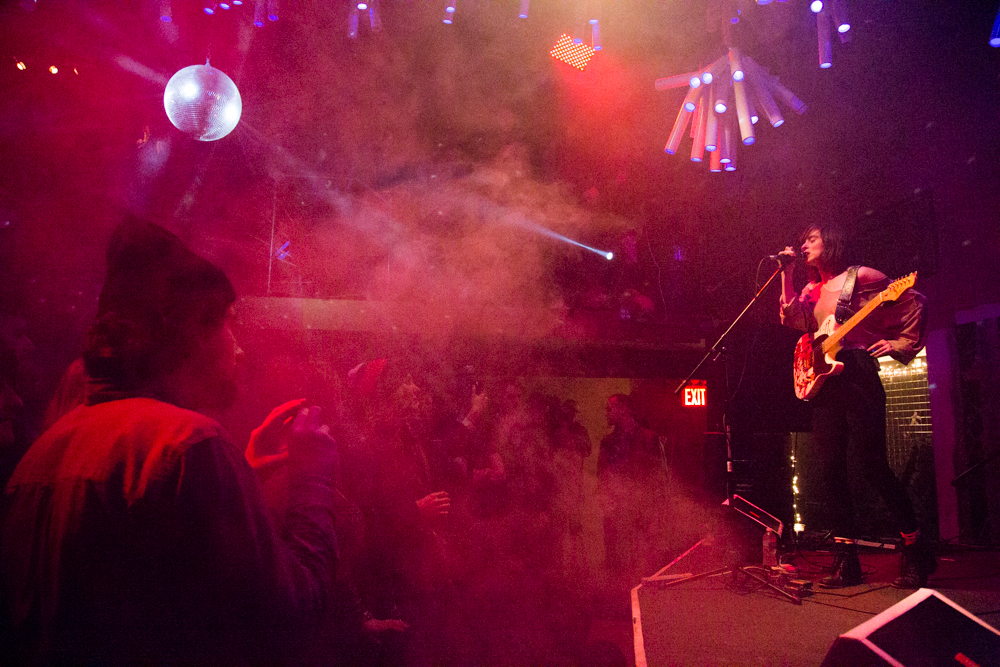 Get the FrontRow Newsletter
Get a front row seat to the best shows, arts, and things to do across North Texas. Never miss a beat.