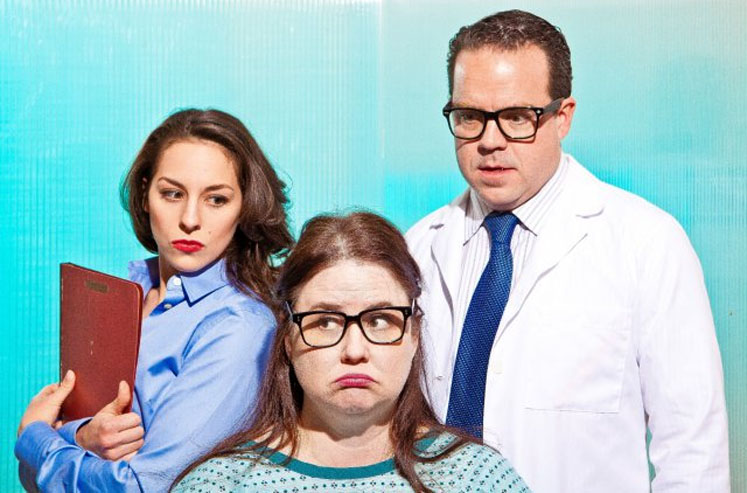 Our Critic Picks the Best Dallas Theater in 2013
Tina Parker and her Kitchen Dog Theatre wind up big winners in our critic's round up of the best theater 2013 had to offer.
Favorite plays
A Raisin in the Sun/Clybourne Park (Dallas Theater Center): Even though they had different directors, these two plays—one an American classic from the 1950s, the other a modern sequel by "a white dude," as the curtain speech went—felt seamless. To see one production this astounding would have been something to treasure; two felt like an embarrassment of riches.
RX (Kitchen Dog Theater): This send-up of Big Pharma and the health insurance industry benefited from a dedicated cast and clear direction Christopher Carlos. It also featured Tina Parker (read down for more about her brilliance) and Christopher Curtis getting hot and bothered while discussing ideas for upcoming issues of the magazine American Cattle and Swine. That kind of scene just sticks with you.
Daffodil Girls, Inspired by David Mamet's Glengarry Glen Ross (Fun House Theatre and Film): Watch a pre-teen deliver a slightly more age-appropriate version of the "coffee's for closers" speech and then try to tell me Jeff Swearingen isn't a genius. Adapting Mamet's tense, foul-mouthed real estate play for adorable girls selling cookies is a nice hook, but pulling it off with a remarkably talented young cast and a thoughtful set design is definitely something to be praised for.
Detroit (Kitchen Dog Theater): Real enough to feel timely yet absurd enough to bring relief, this play about two couples dealing with the recession gave some of Dallas' best actors an excuse to get weird. Like, start an orgy and then burn down the house weird. It was a backyard barbecue that was impossible to forget.
Favorite Musicals
Fly By Night (Dallas Theater Center): It's been seven months and I still catch myself humming that song about turtles. There probably would have been all kinds of Equity hoops to jump through, but I wish DTC and Austin-based band Foe Destroyer could have made a cast album for this strikingly original, time-bending musical about fate, love, and the New York City blackout of 1965. I would probably be listening to it right now.
The Sound of Music (Lyric Stage): This is how it's done, Carrie. Bri Sudia brought a refreshingly gawky air to the flighty nun Maria, while director Cheryl Denson kept the rest of the production crisp and lively. Oh, and this was live too.
Hank Williams: Lost Highway (WaterTower Theatre): It may not technically be a musical, but without the talented musical performances of Joey Folsom, Sonny Franks, and the rest of the onstage band, this show wouldn't have been half as enjoyable.
Actors
John Campione (Kiss of the Spider Woman, Uptown Players): Campione was a delightful surprise this year—he seemed to get better with every show he was in (and that was a lot of them). His macho turn as the prisoner Valentin was quiet when compared to Mikey Abrams' flashy turn as Molina, but seemingly twice as effective.
Joey Folsom (The Aliens, Upstart Productions; Hank Williams: Lost Highway, WaterTower Theatre): Two very different characters, two excellent performances. As the Beat-loving slacker in Aliens, Folsom brought a poetic intensity. In Hank Williams, he channeled the country crooner's stage presence while inviting us in to witness the tortured man's inner demons.
Actresses
Tina Parker (RX, Detroit, both Kitchen Dog Theatre): Both of these shows owe much of their hilarious success to Parker, a master at the art of subtle crazy. Watching her climb the drug-induced heights in RX was only matched by her alcohol and insecurity-induced freak-outs in Detroit. It's a good year when you get this much Tina Parker onstage.
Mikaela Krantz (Hank Williams: Lost Highway): It would have been easy for Audrey Williams to be annoying: she's controlling, easily offended, and a truly terrible singer. But when Mikaela Krantz played her, somehow even that horribly off-key singing voice became endearing—and incredibly funny.
Miller Pyke (Matt & Ben, Echo Theatre): I hope Pyke doesn't take offense when I say she played a man really, really well. We as an audience went along with her portrayal of Ben Affleck (yup, Batman mask and all) because not only did she nail the way dudes walk, sit, and strut, she even brought some humanity to her send-up of the not-so-bright, kind of doofy, still utterly funny bro. How 'bout them apples?
Photo by Tina Parker in Kitchen Dog's Rx (Photo  by Matt Mrozek)