As I walked into the Wyly Theater for opening night of the Dallas Theater Center's sketch comedy show, The Second City Does Dallas, I spotted First Baptist Pastor Robert Jeffress sitting at a cocktail table. I don't know the man, and I've only ever met him when I sat in on The Second City writers' meeting with him as part of their research trip in advance of writing this production. But looking at Jeffress, I could tell he was uncomfortable. And he probably should have been. He was waiting, like Dallas, to find out if he was going to be the butt of an elaborately staged joke.
As it turns out, Jeffress (like others) gets off easy in The Second City Does Dallas. The show is, generally speaking, a polite affair. A caricature of Mayor Mike Rawlings makes a few cameos, portrayed as a guffawing Pizza Hut glutton, and so does Big Tex, the animated statue that greets visitors to the state fair. There's also an off-handed John Wiley Price mention. And there was supposed to be a Jeffress-parody in the production, but it was cut during previews. Instead, The Second City Does Dallas has more fun with types and generalizations, with sketches dedicated to gays, or suburbanites, or office workers.
The show consists of a dozen or so sketch routines, improv segments, and songs, and it is often quite funny, though as consistent as a run-of-the-mill Saturday Night Live episode. Among the funnier gags is a scene in which a couple finds a buyer for their Museum Tower condo: an evil genius who needs a building that he can transform into a death ray. There is an amusing office chair ballet, a paean to our cubical culture; a song that pits Dallas against Fort Worth, culminating in a mutual disdain for Houston; a number of knocks at AT&T; the requisite big hair joke; and a song about atheists pondering life's deep questions. Then there is the finale, a long, bombastic piece about a man from Plano (played by Madtv's Frank Caeti) who decides to toss away his lackluster life of Olive Garden-eating to "claim his bounty." It plays as an admonition to Dallas-Fort Worth dwellers to fight-off the complacency and genericism that characterizes the sprawling suburban region.
That's about as political as things get in The Second City Does Dallas, along with a skit about gays protesting their inability to marry by stealing straight-guys' wives, which had everyone laughing. Liz Mikel's grandma sketch offers a brand of humor I would have liked to see more of, comedy rooted the real local character of place, rather than jokes with local landmark or personality punch-lines.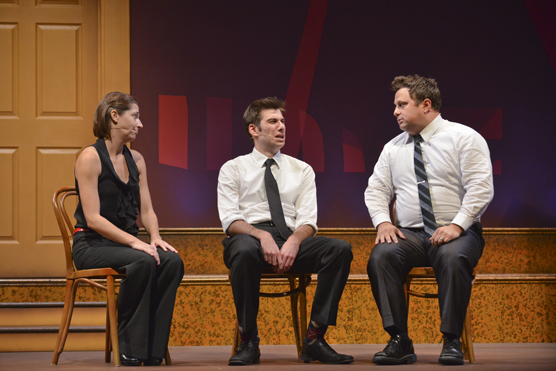 Liz Mikel is also a standout in the cast, not just for her commanding presence, fantastic voice, and pitch-perfect comic timing, but also on opening night for her improv, scoring some of the best zingers, even though she was sharing the stage with full-time funny people. Mikel also has what is perhaps the show's best line, coming in a sketch that plays different neighborhoods off each other. "No one gives a sh*t about Fair Park," Mikel shouts, the slightest simmering of cut-to-the-core social commentary in a show that would have been bolstered by a little more Richard Pryor-inspired swagger.
The Second City Does Dallas is boldest in its two talked-about sketches that border on the offensive. One is a sketch that stars an actor playing Klyde Warren, the nine-year-old namesake of Dallas' newest park. It portrays a spoiled little boy with a cocky Vanilla Ice attitude, who brags about how he now has a legacy even without having to do anything with his life. It's been taken as a below-the-belt shot at a nine-year-old. But is it? Maybe the sketch feels uncomfortable because the joke is on us, that we allow money to co-opt everything, even to the point of the ridiculous civic gesture of naming our most lauded public park project after a kid who could grow up to be a criminal, or even worse, a spoiled socialite train wreck.
The most controversial sketch, however, involves an imaginary meeting in which a number of Dallas residents are trying to figure out how to best commemorate the 50th anniversary of the assassination of John F. Kennedy. Some of the more amusing suggestions include pretending that the assassination happened somewhere else ("But no other city in the world has a grassy knoll," another counters), or celebrating the anniversary of the assassination of Lee Harvey Oswald instead. The more tasteless jokes involve a character who continues to come up with terrible ways to profit off the assassination, like selling JFK bobble heads. A DTC rep said this skit has gotten the most feedback, with angry audience members leaving comments on the DTC's Facebook page. Indeed, the one comment on our own story about the production requests this sketch be removed from the show.
Surely, though, we've learned by now – from George Carlin, from Richard Pryor, from Lenny Bruce, from Chris Rock, from countless others – that one of comedy's roles is to offend. Because when we are offended, we are shown by the comedian what it is that we still hold as sacred. In the case of the JFK skit, it is curious to learn that we are still sensitive about our uncomfortable role as setting for the last assassination of an American president. Or perhaps what is uncomfortable about the sketch is that it makes a mockery of our city, supposing we would seek to profit off our greatest historical shame. Comedic hyperbole? Of course. But Dallas is a place that tends to value a good business venture over its culture or history. Perhaps it is also a place that, when it comes to our two sacred cows — business and philanthropy — needs to lighten up a little too.
Photos by Karen Almond
Get the FrontRow Newsletter
Get a front row seat to the best shows, arts, and things to do across North Texas. Never miss a beat.