This week's episode of Big Rich Texas probably sparked a DEFCON 5 phone call by Rick Perry to an intern who immediately screeched up on two wheels at Bonnie's pad, threw a sac over Whitney's head and then dumped her across state lines with a warning never to return.
But even if that mission was a success, you can't un-ring a bell.
So viewers worldwide could possibly be under the impression that Whitney Whatley is an adequate representation of Texas. And that Dallas is run by the Fashionistas' founder Heidi Dillon, and/or that Pamela Martin-Duarte plays a key role in setting the style for our city.
But let's start with other notable inconsistencies.
Bonnie invites Connie to sip wine and make mums for their sons'  homecoming dates. The boys are not yet in high school and though there's mention of them being on the same football team, they go to different schools. So let's assume they play on a club team of some sort, there's no homecoming.
Over at Woodhaven Leslie, Tyler and Kalyn are working their new pageant training biz, tragically named Life's a Pageant. They have students gearing up for a mock pageant at the club.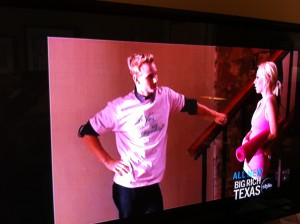 When Tyler sees Whitney pass by, he's still wearing the official uniform, a pink t-shirt with a picture of a crown and the company name in a fancy baby blue font. Yet he chases her down anyway. Whitney makes it clear she's moving on with her life and doesn't need him.
Ty, sweetheart, she has 15 tattoos and the elegance of a pro wrestler; don't approach her while you and your mom are wearing matching pink tees. Write that down, K?
Next, Duarte lays it out for her daughter, Hannah, via Skype, "I've been invited to walk the runway for Fashion Group International's annual gala where they honor community leaders. Half the city is gonna be there."
Community leaders. Fashion. I'm sorry Duarte, I was distracted by your prepackaged window treatments from Bed Bath and Beyond, what are you talking about?
Pamela tells Hannah, "I need to make sure that Heidi Dillon sees me as somebody who could participate with her on her board."
Pam, even if Dillon saw your valances I think you'd be OK. Didn't she excuse herself from a media interview last year by telling the reporter she had to go pick a booger?
Dillon reassures herself, uncrossing her legs and excusing herself to go "pick this huge booger out of my nose."
Pam tells us she's setting her sights on a board position with Fashionistas because she also has a lot of boogers, "It's a far cry from those ladies at the country club which I'm actually kind of looking to distance myself from." Pam, this works out perfectly because I think the girls are looking to dump you too.
Cut to Style Network's tricky transition of the night where they flash a pic of the Chanel and Jimmy Choo boutiques before landing at an industrial space near Alpha and Midway called Prashe Design Space. That's where Pam has the namesake, Prashe, designing a dress for her to sport on the catwalk of the FGI event. Connie meets Pam there to give her opinion because suddenly she's not only a used couture specialist, "I'm a personal shopper and stylist."
Pam tries on the dress and Connie weighs in with the advice she usually charges a bundle for, suggesting Pam get, "…a fabulous shoe and fabulous jewelry." Connie, I'm in the word biz and here's a freebie: If that's all you've got, don't use the same adjective twice. Get a thesaurus while we check in at the club.
Tyler finally lost the chick clothes so he tries to talk to Whitney like a man. An awkward man. They sit in the chow hall where Tyler responds to Whit's outrage over his previous claim to having dated her only because his mother made him, "I might have said some things to be mean but that is not true."
Wow. Ty. You threw your mom under the bus and destroyed the only friendship she had in Dallas just so you could lash out at Whit with a lie? I can see where that was your only option because just breaking up would have totally made episodes 1 and 2 a bore.
He apologized to Whitney but he really owes an apology to viewers for wasting 2 hours of their time. Tyler, I'm waiting.
Whitney is still "working" at Skintastic where she's hanging out in the lobby with the receptionist looking at pictures of her dream boobs when Tyler calls.
Receptionist: Thank you for calling Skintastic, how can we make you more beautiful? Let me see if she's available.
Whitney: Tell him I'm sick.
Receptionist: OK, she actually had her wisdom teeth taken out; she'll be out for awhile.
The receptionist hangs up and encourages Whitney to not let him "distract her from her goal."
Whitney seems to have a moment of clarity and America believes she's considering her academic future when she breaks the silence, revealing her goal, "Keep my eye on the boobies."
So Whit heads home and gathers her craft supplies. While she cuts pictures out of magazines, she tells Bonnie she's making a "visionary board" which is essentially a collage of breasts she'd like to have custom made.
Bonnie suggests a career board but Whitney has a point, "There's not a magazine in the house that has careers in it."
And then the loving daughter strikes a deal. Bonnie wants a nose job so Whitney agrees to take care of her mom after the surgery if she'll buy boobs for Whit. What happened to caring for your elders? Bon, when you're old, she's putting you in a dusty nursing home with weekly diaper changes.
Who is at the door? Sweet Tyler brought soup since Whit kind of had her wisdom teeth removed. Bon suspects it's poisonous.
Ty sees the visionary board and doesn't run screaming. Whit, take him back. This could be your only option ever. Bon, don't let that boy leave without your daughter. Act now or she'll never move out.
He tells Whitney about the mock pageant and says, "Stop by and check it out." That's the closest thing to a marriage proposal you're getting, Whit. Run to him. Take his hand.
The big night has arrived and Connie introduces Heidi Dillon to the cast. Melissa's intro goes off without a hitch but DeAynni can just pack up her antiques and move to Arkansas because she tells Dillon, "You're a queen here, I hear." Followed by that Fran Drescher laugh. Absolutely fun to watch.
But not as fun as this Duarte/Dillon dialogue exchanged over air kisses.
Heidi Dillon: What an honor for you.

Pam: Thank you, I'm thrilled and I'm definitely honored.

Heidi Dillon: You should be. It's awesome. You're really arriving.

Pam: Arriving?

Heidi Dillon: On the social scene.
Heidi, I love you. Boogers and all.
Back in Colleyville, Maddie, Grace and DeAynni's daughter, Shaye, have decided to go to Amber's college party at the lake. Maddie drives the birthday Jeep against mom's orders and the girls take off on an unauthorized road trip. Amber isn't happy to see them and calls DeAynni who is still at the FGI event despite having made that queen comment.
DeAynni reports to Melissa and Connie. All 3 moms go to DeAnnyi's house to bust the rule-breakers upon return. Wide-ranging parenting styles result in different punishments for each girl. Maddie loses the Jeep forever and is grounded for life. Grace isn't getting her driver's license anytime soon. And Shaye gets the crap slapped out of her by DeAynni who follows the beating with, "You disrespectful little idiot."
Kudos to the cameramen for keeping things professional and not pausing to dial 911. And to the production staff for including the clip in the episode. This is a new low and, frankly, super disturbing.
Next, we're audience members for the mock pageant where Leslie has recruited Connie and Melissa as judges. Melissa reassures Leslie that she's well qualified, "I used to be Miss Dallas and Miss Carrollton."
Leslie: I knew you were a pageant girl. How did you do at Miss Texas?

Melissa: I really don't want to talk about it.

Leslie: Did you get kicked off the stage?

Melissa: I can't talk about it.

Lelsie: Did somebody hit you with their flowers?

Melissa: You're making me uncomfortable, I really can't talk about it.

Connie: I mean, everyone wins a crown, did you win one?

Melissa: I can't talk about it.

Leslie: Did you have a crown when you left the building?

Melissa: I really don't want to talk about it.
Melissa, I like you. But here's what I think: You're freaking lying about some or all of this story. You've forced us to investigate.
I asked around and am told that your claims to the Dallas and Carrollton sashes were both circa 1986. I Googled this like a maniac and couldn't find you anywhere. I searched for lists 1980 to 1990- not a thing.
And to save you the trouble of digging through your pageant archives, I was able to track down this pic of the 1986 Dallas area contestants. Just circle your head and we'll call it a day.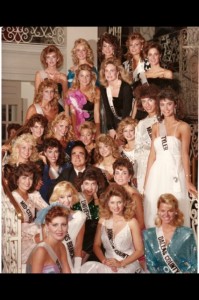 The mock pageant looked boring until Whitney walked in and noticed Tyler flirting with the trainees in the background. With a drink in hand, she heads backstage to confront him. But Tyler has a point, "I'm not dating you so why do you care?"
Whit: Then why are you calling me? You invited me here.

Ty: I invited you here, oh right.
A girl on the sidelines tries to intervene.
Whit: Gurrrl, shut up.

Ty: Don't tell her to shut up.

Whit: [screaming so that the pageant audience can hear] I will tell her to f***ing shut up if I f***ing want to.

Ty: You're a drunk b****, you need to get out of here.

[Whit offers a sip to Tyler]

Tyler: No, I don't want to get any diseases.

Whit: You f***ed me, how would you get diseases?

Tyler: You should probably leave.
Kalyn heads backstage to break this up and save the pageant.
Kalyn: Whitney, there's a pageant…

Whitney: Shut up, Kalyn. Shut the f*** up.

Kalyn: No, Whitney, it's a pageant and you need to be polite. You need to leave.

[Whit makes a move and Kalyn blocks herself.]

Whit: Don't f***ing touch me. [Whitney, this is the moment you can still change everything but that time is almost gone.]

Kalyn: Get out of my face, b****.
And then Whit throws her drink in Kalyn's face and puts her hands around Kalyn's neck. Kalyn's crown falls off, people are screaming.
Kalyn: If my crown is bent I'm going to be pissed. [Kalyn, shut up.]
Leslie is forced to leave the stage and help with the brawl. Connie, Melissa and DeAynni try to comfort a drunk and crying Whitney as she falls on the floor embarrassing the entire state of Texas.
Then cameras follow as Whit runs out of the club and cries in a corner, blocking her face in the first true reality moment in 2 seasons.
So now that we've witnessed an alcohol induced breakdown, one would think the moms would rally together in Bonnie's absence and save Whit from herself. Instead, they remain indoors where Connie suggests, "I bet Tyler and Kalyn are sleeping together."
It takes a village. But not this one.
Get the FrontRow Newsletter
Get a front row seat to the best shows, arts, and things to do across North Texas. Never miss a beat.