Among the most engrossing works in Linda Ridgway's exhibition are the prints made by placing a graphite-dusted child's dress against a sheet of paper, then putting them together through a printing press, so that the form of the flattened dress is imprinted in graphite outline on the paper. This process precisely preserves the contour of the little dress, down to every fold, pleat, ruffle and seam. Made by the operation of the machine, the image (Yet the new girl more shines with herself, 2011) is literally pressed into the paper, a hybrid of drawing and printmaking.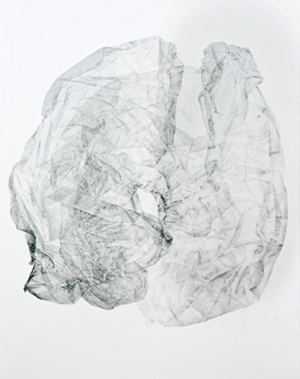 These images have a ghostly, transparent but exact quality, perhaps recalling X-rays or the stained cellular sections of a biology lab. While they are completely flat in a literal sense, the images reflect the multiple layers of material from the clothing folding over itself as it was compressed. Metaphorically, they might suggest a feeling of lost time passing, or a recollection of childhood (many of the source garments seem to be child-sized). Two of these belong to the series The Alice Chronicles (both 2011-2012). Like the title of the entire show, it is reference to Alice in Wonderland, one of the many 19th- and 20th-century works of literature from which the artist has drawn inspiration. Two others are titled with dates only (July 25, 1913 and May 21, 1982, both from 2011). We are invited to guess here, but I wonder if the dates might refer to significant occasions in the childhood of the dresses' original owners.
I also wonder if it is coincidental that a well-known, pre-photographic token of past childhood, the bronzed baby shoes, uses the same medium (i.e. bronze) as Ridgway does in her wonderfully intricate, cast bronze flowers, of which there are two examples here in unique editions (Mondrian's Flower, 2011-2012, and But the secret sits in the middle and knows, 2011). At the same time, the closest familiar parallel to the graphite works' sense of compression, flatness, and fragility might very well be the kind of pressed flowers that one keeps between the pages of a book. In this respect, one could very well see Ridgway's graphite and bronze works both as reformulations of traditional keepsake media.
Image at top: All things great and small, 2010. Bronze and text; 3 1/2 x 11 x 9 inches.
Get the FrontRow Newsletter
Get a front row seat to the best shows, arts, and things to do across North Texas. Never miss a beat.