Last week on Style Network's Big Rich Texas, viewers were baffled when Pam did a Michael Jackson and appeared for season 2 with a new face, pretending like nothing happened.
That incident better prepared fans to cope with this episode in which Bonnie impersonates Dexter and sets up a full kill room in the garage to analyze blood splatter for a murder mystery book she's writing.
She calls Whitney in to assist. Over a blow-up doll who is about to meet a gruesome death, she tells Whit that she got her an internship with Dr. A because, "She'll need this for her medical school application." How about the undergrad application, will it help with that too?
But Bon is a forward thinker and just in case the doctor gig doesn't pan out, she's giving Whit the experience she'll need to be the next best thing: a serial killer. Whit isn't allowed to leave the garage until she's murdered the doll, lovingly named Pa-Leslie based on Bon's intense hate for Pamela and her feelings of betrayal by Les.
On a positive note, it seems Whit has found her calling. She's totally at ease as Bon raises the golf club over Pa-Leslie and says, "Let's bludgeon this b****."
Next, Pam and Melissa are playing putt-putt on the Woodhaven course, discussing the sweet 16 party for Maddie and Grace. Melissa is afraid that Connie is too busy to commit to the level of planning needed. So she tells Duarte that she's thinking about following the suggestion of production staff and creating a bunch of drama by asking cast newbie, DeAynni, a professional party planner, to help out with the birthday bash.
Mel, I don't think Connie would be all that busy if you'd meet her at a Starbucks somewhere in Dallas. The commute between her home in Highland Park and the country club in Fort Worth is surely eating up valuable party prep time. And I have a bad feeling about any DeAynni/Connie interaction. In fact, I'm pretty sure they're the "before" and "after" version of same person, caught in some tripped out time warp. A meeting could destroy the planet.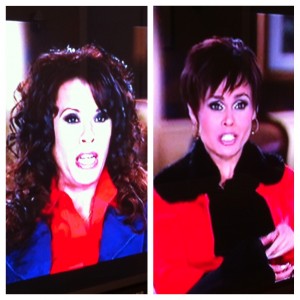 But Connie seems to have it under control with a location locked and loaded, "This venue is fabulous, it's called The Ruby Room; they have a fabulous dance floor."
Maybe Connie is too busy to focus on the details after all. Either that or she really meant to secure a burlesque instruction studio for her daughter's 16th birthday. On the bright side, Ruby Room party packages are available on the cheap and each guest gets a boa.
Connie mentions the possibility of the birthday girls getting new cars at the event. Melissa is opposed. Not because she's a single, working mother. And not because her budget requires that she live in an apartment furnished in one easy step by Rooms To Go. It's really more of a safety issue.
But the car talk goes on hold when Connie gets news that they've lost the venue. A super high-strung Melissa is livid. Mel, this might seem like the end of the world right now but I promise, it's a blessing.
Meanwhile, over at Skintastic headquarters, Whitney is interviewing for an internship to pad her med school app. Dr. A admits, "I'm having a lot of reservations about doing this but I've known your family a long time." Whitney pinkie promises him that she'll work hard and with that, she's hired.
Next up, Leslie is encouraging Kalyn to get in pageant mode by telling her that she's way cuter than the current Miss America, "And you have a better figure. Except we'll make it a little bit even better." And not that Leslie planned it this way but if Kalyn starts collecting crowns, she can help Les conduct seminars for her pageant business.
And Leslie feels like Kalyn's chances of becoming Miss Dallas, Miss Texas and Miss America will be increased substantially if she has a job, in addition to going to college and promoting Leslie's biz. This is strictly to "round out her pageant resume" and apparently has nothing to do with making ends meet.
Speaking of jobs, Whit's first day is off to a rough start. It seems that in the real world, tattoos are frowned upon by employers in professional settings. So with her tats covered, she learns she'll be cleaning restrooms, handling laundry, and disposing of used needles.
Cut to Woodhaven where 18 year old, high school grad Kalyn is meeting up to study with 15 year old Maddie, a sophomore. Conversation quickly turns to the upcoming sweet 16. Maddie shares that she doesn't think she'll be getting a car for her birthday. Kalyn has apparently forgotten her own modest roots in a California trailer park and seems stunned by the possibility.
Look! Tyler has been called to the set returned to Dallas. Leslie needs his help expanding her business so it looks like he'll be bunking in the apartment that Kalyn and Leslie moved to when Tyler left and they discovered the house was too big without him. Is that mansion still for rent?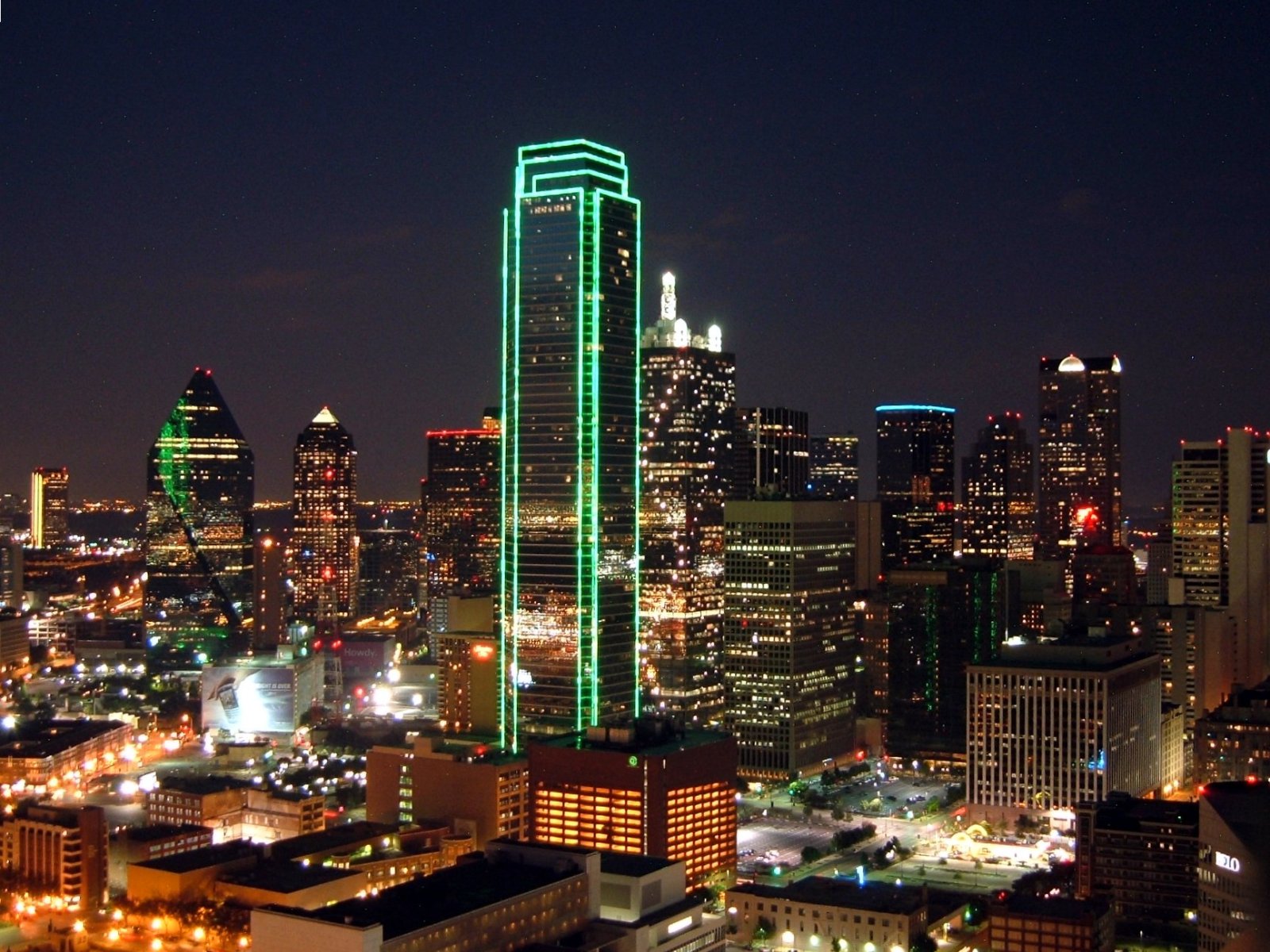 Next, Style Network performs a transitional stunt taking viewers on a bumpy ride from the downtown skyline to a close up of the iconic neon green Bank of America tower, to a shot of the Majestic Theatre that fades into Bonnie's home somewhere near the Denton County line.
That's where Whitney is venting about the new job, telling her parents she's a slave as opposed to an intern. She claims she thought she'd be working with patients.
Whit, keep the job. 23 year olds with a bunch of tattoos who graduate from an online high school, live with their parents and don't have an undergrad degree, usually work at the food court. Stick with this.
Moving on to less obvious things, we head to Colleyville where Kalyn and Leslie have been invited to visit DeAynni who has a diagnosable accessorizing disorder. She's wearing 5 necklaces and every square inch of her home is covered in knick-knacks from Kirkland's. And it's a genetic thing as evidenced by her daughter, Amber, who is decked out like a gangster in gold chains but is otherwise dressed conservatively. The weirdest part of all: I think they're growing on me.
Upstairs in the media room, Kalyn and Amber sit awkwardly, forcing conversation in a painful effort to become fast friends even though all of America can see they have nothing in common. Kalyn breaks the ice by telling Amber she'd be a great match for, "My brother, Tyler." This won't work, Kalyn. Not only are we still dealing with the Whitney breakup but he's so totally not your brother and you're in love with him.
In DeAynni's antique replica-clad kitchen, the newbie joins forces with Leslie and pledges to have her back.
Later that day at the Woodhaven chow hall, Whitney is presenting Maddie and Grace with birthday surprises (certificates for a tattoo or piercing of choice) when she spots Tyler approaching with Kalyn. Tyler tries to be civil but Whit wants to be confrontational and inappropriate for shock value as usual.
Kalyn: You guys broke up, so what, just get over it.

Whitney: B**** who asked you? Shut the f*** up.
Tyler runs home as fast as he can to his mother. Leslie is ironing a shirt in the kitchen while she brainstorms about names for the pageant business. Since she's flown him from Seattle to help, she's anxious to hear his thoughts. Tyler offers, "International Pageant Training Stuff." Hope that ticket was round-trip.
Leslie tells us she doesn't want anything too corny so she's considering the name "Life's a Pageant." This is the problem, Leslie. Life is not a pageant. And that's a stupid name for a company.
The night of the big birthday party has arrived and Connie is concerned about the venue DeAynni selected because it's too night club-ish. Call me crazy, Con, but isn't it better than the burlesque studio that also offers classes titled Bumps and Grinds and Floor Play?
DeAynni is on the couch telling viewers how proud she is, "I kind of kept with the theme Connie and Melissa were wanting, just a little bit more hipper, funner, a little more deee-lish." More hipper? Funner? Nevermind, as it turns out, she's not growing on me at all.
The dads have a surprise for the birthday girls. With fireworks shooting in every direction, the girls are led to their new cars. Is that a Trans Am, Grace?
OMG! Shut. Up. Melissa takes Maddie's Jeep away at the party in front of her friends telling her she's not old enough. Mel, every teen in America hates you. In fact, if you weren't so nice and genuine in comparison to your cast mates, I'd hate you too.
Back inside the club, Whitney does what she does best. She waits til the music is loud and the party is hoppin' to initiate a serious talk with Tyler. Leslie approaches and reminds Tyler that their families are at war. Bonnie shows up to defend Whitney.
Leslie: Why don't you take your tacky ass daughter and get out of here.

Bonnie: Did you just call my daughter tacky? [Maybe it's just me but I'd be focused on the ass part too, Bon.]

Leslie: Tacky ASS, yes.

Bonnie: Exactly what is tacky about her?
Leslie, I'll take this one.
For starters, Bonnie, she has the c-word stamped on her foot. She cusses like a sailor, dresses like a Vegas showgirl and gets sloppy drunk any time she's not defending her lack of motivation to your husband.
The argument between Leslie and Bonnie dies down and Bon tells Whit, "We had a little blip on the smart radar because we let them in our lives." Is this the same radar that was in operation during season 1 too? If so, you got a lemon, sister.
In the corner of the nightclub, Whitney speculates that Leslie and Tyler roam around the country telling elaborate lies, moving each time they're discovered. Bonnie gives life to the theory, "They're drifters."
If they're drifters, they're pretty ones.
Get the FrontRow Newsletter
Get a front row seat to the best shows, arts, and things to do across North Texas. Never miss a beat.