On New Year's Day, our city lost one of the bright lights in our homegrown music community. Frankie Campagna (Frankie 45) died. He was 24. Frankie was a graduate of Booker T. Washington School for the Performing Arts. More importantly he was a graduate of virtually every musical venue in the city. Frankie, whose stage name was Frankie 45, was in the greaser punk band, Spector 45, voted best punk act at last year's Dallas Observer music awards. The surviving members of the band are his friends: Adam Carter and Anthony Delabano.
Frankie grew up in Deep Ellum, the son of Frank Campagna, muralist and owner of Kettle Gallery. Frankie and his sister Amber (an accomplished visual artist in her own right) were well known to all of the bar owners, musicians, fans, photographers, artists and others that spent any time in Deep Ellum. I got to know Frankie because my youngest son, Fred, was playing in bands in his teens. It wasn't long before I ran into Frankie.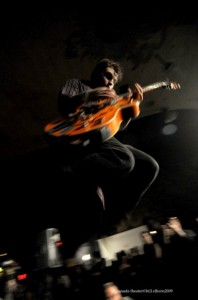 In all of my memories of Frankie, he's wearing an enigmatic smile. He was unfailingly pleasant and friendly.  His smile is mentioned in every one of the many memorial posts which filled the internet in the days since his death. He was also a real professional. Every time he was asked, if he could, he played. He played for charity, played for money, and played for the thrill of creating and entertaining others. He was one of the most entertaining singers I have ever watched. He literally leapt into the audience and exuded enthusiasm. No one in this city was a better showman. He left it all up on the stage every time.
I loved the obvious pride and affection both Frank and Amber had and have for Frankie. I don't know of a family that was closer than those three. Frankie once said in an interview with the Dallas Observer: 'My dad is one of the only people I've ever idolized, him and Joey Ramone.' That quote says a lot about Frankie.
A memorial concert has been put together by his friends, most notably, Pete Freedman, the music editor of the Dallas Observer and a close friend of Frankie. Pete has put together a notable line up of musicians to send Frankie off in style. Frankie's death is mourned by many, so this show should be well-attended.
A brand new Club Dada will be hosting the event. Confirmed bands are:
8 – Leg Sweeper
8:30 – The Double Downs (featuring members of Spector 45)
9 – Missile
9:30 – Here Holy Spain
10 – The Phuss
10:30 – The Marfalites
11 – Barry Kooda Combo
11:30 – THe BAcksliders
12 – The American Fuse
Doors open at 7.  There's a ten dollar suggested donation which quite fittingly, at the families request, benefit the Deep Ellum Community Association.
Photos courtesy of Spector 45
Get the FrontRow Newsletter
Get a front row seat to the best shows, arts, and things to do across North Texas. Never miss a beat.