"How do we know what we know?  I feel at home with this line of questioning because I don't know.""
During a press preview walkthrough of the exhibition Vernon Fisher: K-Mart Conceptualism, Vernon Fisher repeatedly asserts his prerogative to inhabit the terrain of negative capability. Negative capability is a state of not knowing, essential for the intentional play that is making art. Keats wrote about it in a letter to his brother as: "when man is capable of being in uncertainties, Mysteries, doubts without any irritable reaching after fact & reason." Negative capability is the terrain of poetry or the zen koan, a space where images exist, overlap, relay, and might even suggest narrative but don't necessarily align in logical coalescence. Even when asked to speak as an authority on his own works, Fisher defers to Modern Art Museum of Fort Worth curator Michael Auping, stating, "you can say it better."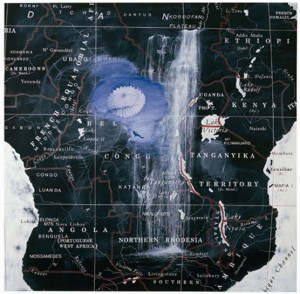 In the retrospective show, now open at the Modern, Fisher's paintings/installational works contain images of all manner of measurement and knowledge conveying instruments. He renders rulers, measuring sticks, graph paper, maps, chalkboard surfaces, eye-charts, scientific beakers, photographs, faux encyclopedia entries, with a strange tenderness and attention to detail akin to a Dutch Golden Age era still life. He repurposes these tools as images to somehow to indicate their lack of authority or usefulness. There capacity to create certainty has faded in a post-modern period when conceptualism and pluralism have infected the centrality of discourse. While pointing to a dissolution of knowledge as we knew it, he retains and works within the authority of Painting.
Fisher uses painting to make a gesture towards ephemerality, while establishing permanence. Many surfaces really do look like chalkboards, as if the writing could easily be brushed aside, and a new set of information added to the palimpsest. A couple of works even have what at first looks like chalk in stacks on shelves extending out from the surface, suggesting that we the viewer might in fact participate in the process. This is emphatically not the case. What in earlier work began as real chalk has out of necessity become cast plaster of piles of chalk to prevent drunken interference at cocktail parties. In a fast and declarative gesture, Fisher reaches onto the surface of a painting and rubs his hand. Nothing moves. The painting is a fixed moment, a fixed idea. There is a certain virtuosity in translating the chalk surface in such tromp l'oeil. It is an oil painting with all the attached emphasis towards posterity, extending in both directions towards the past and the future.
History and it's more personal cousin, memory, are important subjects in Fisher's works.  Maps of Africa, news images from the vietnam era, comic book figures, snapshots of diverse structures, references to twentieth century painters, and texts of uncertain origin intermingle. There is a humor, a quirkiness, and poignancy that comes through the works. I experience great pleasure standing in front of the pieces and playing games of connect the dots, allowing questions to arise: What is Fisher's relationship to Africa? Did he actually travel through the Congo or just play with the literary connection to King Kong? Or is it all about a reference to Conrad's Heart of Darkness? How does all the post-colonial struggle relate to Mickey Mouse and amusement parks? I remain curious, partly because of Fisher's insistence on negative capability, and partly because of his attention to the craft of painting.
Image at top: Vernon Fisher, 84 Sparrows, 1979. Acrylic, graphite, and laminated paper; 69 x 176 inches. Collection of the Modern Art Museum of Fort Worth (Courtesy UT Press)
Get the FrontRow Newsletter
Get a front row seat to the best shows, arts, and things to do across North Texas. Never miss a beat.